While in the land also known as 'One Happy Island' I got to do a few dives.
Two of the open water dives were off a chartered boat with tour guides from Jads Dive Center and one was a shore dive with no tour guide at all – just JC as my buddy – prior to this trip, I had never experienced the freedom of diving without an instructor and the feeling was liberating!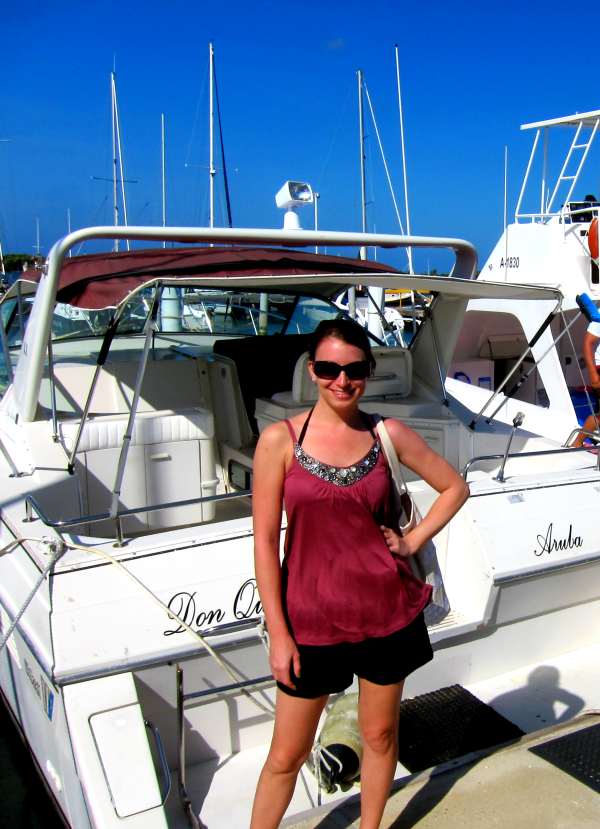 Aruba's reefs are home to some pretty large and colorful fish, lots of crabs and giant sea turtles. While I wasn't lucky enough to see any giant sea turtles (who are apparently busy nesting on Eagle Beach)  – I did see schools of bright purple fish, a rather un – intimidating silver barracuda, and plenty of large beds of coral covered with sea life. Also, I enjoyed seeing a few French Angelfish which are yellow and black, lots of rainbow Parrotfish, and a few Grouper fish.
[nggallery id=121]
I even saw a couple of lion fish, which are not only intruders to the Aruba coast but also extremely dangerous – if you get stung by a lion fish's venomous dorsal fin, you better hope you get to a hospital in time!
Despite the close encounters, at no time did I feel unsafe. In fact, up to depths of over 100 feet below the surface, flowing with the ocean's current, I felt completely at peace while exploring the sea bed.
Photos are best viewed with the PicLens…
[nggallery id=122]
Before leaving the island, I even stopped by a Jads Dive Shop and bought my very own mask and snorkel!