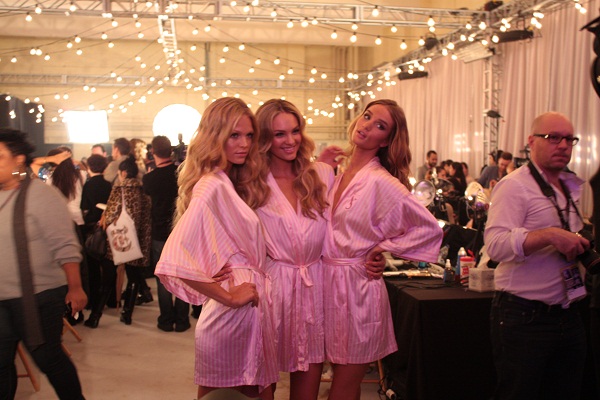 As many of you probably know, I have recently begun writing for FashionNewsLive.com. The site is hosted by Rocco Leo Gaglioti who frequents fashion shows and celebrity events and interviews fashion designers, celebrities and anyone who is anyone in the fashion world (photographers, make-up artists, stylists, etc…). All the videos are available for viewing on the FNL site.
Last night, I was able to attend the 2009 VICTORIA'S SECRET FASHION SHOW on behalf of the Fashion News Live team and even scored a backstage pass where I was able to get a ton of picutres of the famous Victoria's Secret supermodels/Angels as they prepared for the 'Sexiest Show on Earth'.
After the models were through with hair and make-up, the FNL team headed over to the PINK Carpet where we were able to get pics and interviews of the celebrity guests attending the show. Since Rocco is in Los Angeles and was unable to attend, Jack Mackenroth, a contributor for the site (and former "Project Runway' contestant) was host for the night. I was able to tag along and get some great pics to post both on the FashionNewsLive.com site as well as here on SocialVixen.
Tune in to CBS Tuesday, Dec. 1 (10:00-11:00 PM, ET/PT) to watch the 2009 VICTORIA'S SECRET FASHION SHOW
Enjoy!!! (Pics below)