For the second time this week, I dined at a restaurant that has 'Market' in the name: Tuesday, I had lunch at the Marketplace Kitchen & Bar in Danbury, and this morning I enjoyed a Saturday brunch at Market Grille in Manchester. I was definitely impressed by some of the menu options like Crispy Fried Green Tomatoes with poached eggs, domestic Prosciutto, arugula and a hollandaise sauce and also the Grown-Up's Grilled Cheese & Egg Sandwich made with melted Gouda cheese, serrano ham, arugula, caramelized onions and served with a side of tomato remoulade sauce for dipping!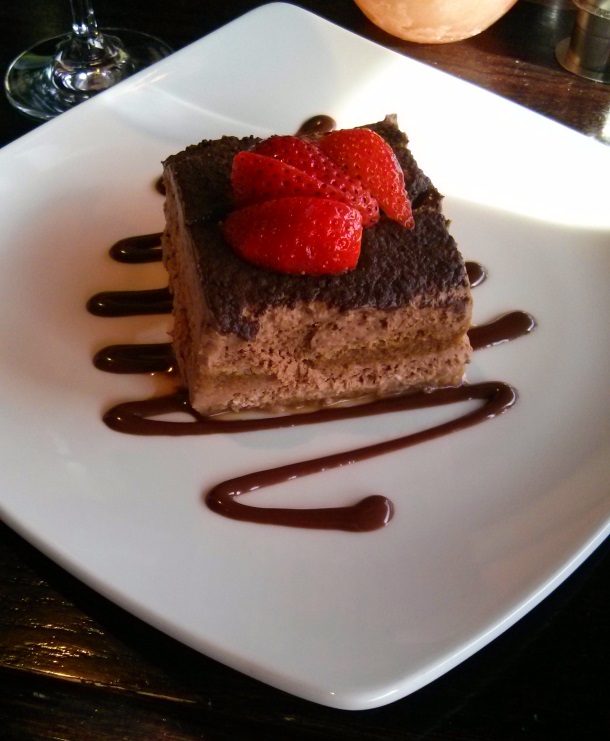 Although there were a lot of tasty sounding choices, I immediately went for the Maryland Crab Cakes Benedict with poached eggs, asparagus, and hollandaise sauce  – it was absolutely delicious! Since I decided to do the pre-fixe, I also got to choose one of the following drinks: Mimosa | Bloody Mary | Cape Coder | Dry or Sweet Champagne | Screwdriver | Summer Sangria | Or, any Market Grille Signature Cocktail. I went for the Summer Sangria, even though it was freezing outside! The fruit turned out to be watermelon, which in theory would be delicious. Unfortunately, there was a freezer burn flavor that didn't sit well on my palate. It was OK, but could have been amazing – I guess it's my own fault for ordering the 'Summer Sangria' in the dead of winter.
The Pre-Fixe also included a dessert and for mine, I chose the tiramisu, which was so good! I'm craving it again after looking at the picture just now…#NomNom #Drool
More pics below…
Other dessert options included: Mississippi Mud Pie Trifle | Classic Bananas Foster | Seasonal Cheesecake | Chilled Sorbet with Seasonal Fresh Fruits | or J. Foster's Ice Creams.