La Posada de Santa Fe is an unusual hotel in that it's rooms are set up as a small village – each with it's own entrance and many with private patios. After checking in, we followed a path that took us to our 'casita', which consisted of a living room, bedroom, small office, bathroom, and a walk in closet! The decor is very rustic with wooden floors, open beams on the ceiling, windows (that actually open), and a wood burning fireplace – which I loved!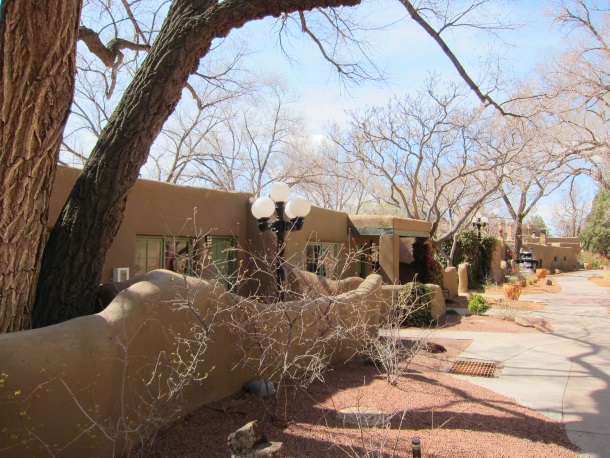 Everyone who works here was incredibly nice right from the beginning – starting when we pulled up to the valet and then continuing with our check in at the front desk – and on to the nice gentleman who came and offered to light our fireplace. Since it was my birthday, the front desk had arranged for a bottle of Champagne and chocolate covered strawberries to be set up in the room and waiting for us when we arrived. They even included a 'Happy Birthday' card which was signed by the front desk employees – how thoughtful (and delicious)!!!
JC and I really made use of our time at La Posada de Santa Fe. After unpacking, we brought our bottle of bubbly out to the patio and sat outdoors while enjoying our complimentary treat and some fresh air. We used this time to chat and write out some post cards. Then, we headed over to the hotel's main restaurant, Fuego, where we enjoyed an amazing dinner, which I will do a separate post on. (Fuego Restaurant Post) Afterward, we changed into our swimsuits and headed over to the jacuzzi, which was just a short walk from our little villa. The sun had already set and the temperature was rather cool. For us, this was perfect as it meant we could  sit in the hot water longer, watch the stars, and enjoy the quiet stillness of the night. After a relaxing hour or so, we put on the provided robes to keep warm and walked back to our room. Even though it was cool out, I wasn't cold – in fact, it was perfect! We finished the night sitting by the fire and watching one of our favorite TV shows – Game of  Thrones.
[nggallery id=306]
The next day, I didn't want to go! We started the morning with breakfast in bed –  I had the heuvos rancheros, which were delicious! Then, JC wanted to explore some of the local attractions and I opted to stay behind and catch up on some writing. I set up shop in the mini office and opened all the windows. With the sun shining in and a light breeze blowing, it was the perfect  few hours for writing! After we were packed we headed to the main office to check out and were told that there was a tequila tasting (complimentary) taking place in the main bar. I enjoyed a margarita on the house, while JC had half a shot of the recommended tequila. After checking out, JC and I agreed that we would definitely stay here again if we find ourselves in Santa Fe. In fact, our stay had left us hoping (and tentatively planning) to go back during our travels!