Over the years, I have developed a list of places I like to visit when I'm in Las Vegas; Sushi Samba for their unique sushi rolls, Olives for their outdoor seating with a great fountain view of the Bellagio, and now Chocolate & Spice Bakery for Chef Megan Romano's great selection of fresh made pastries and savory brunch options like the vegetable frittata!
One of the first things I noticed when I entered the bakery is that Chocolate & Spice is full of whimsical treats like artisan chocolates, rock candy swizzle sticks, and lots of colorful pastries and sorbets. All of the items are made fresh on location and include a lunch menu that changes daily. If I were a local, I'm certain that I'd be here a few times a week, sampling the daily specials or large selection of exotic flavored chocolates, scones, and other tasty morsels. In fact, despite having only opened in May of this year (2012), Chocolate & Spice already has some loyal fans who come once a day for lunch and some dessert to go! Additionally, there are a multitude of reviews on sites like urbanspoon and yelp that are all extremely positive, similar to my own experience.
For my first trip to Chocolate & Spice,  I was able to sample quite a few of Chef Megan Romano's creations – I've posted descriptions and photos below.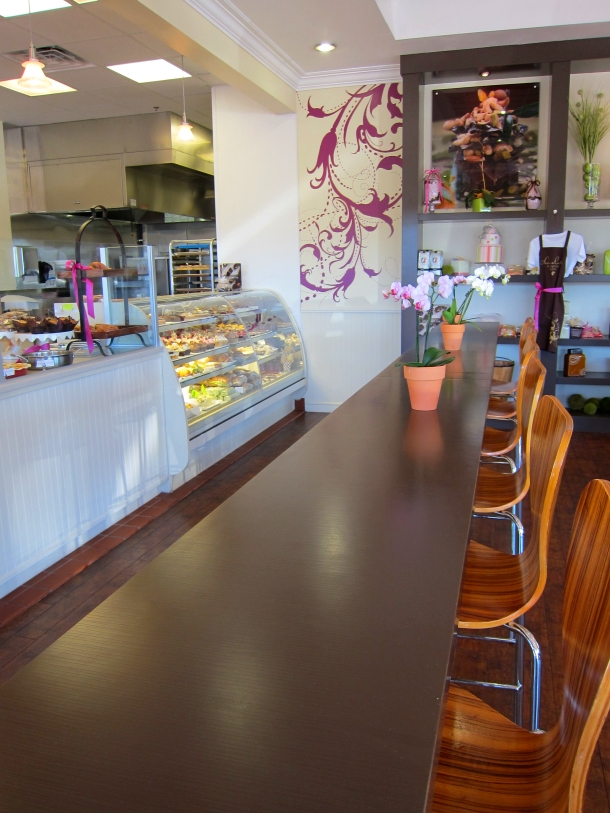 First dish: Vegetable frittata topped with pesto and almonds and paired with a balsamic reduction, and tomato confit. One word: delicious.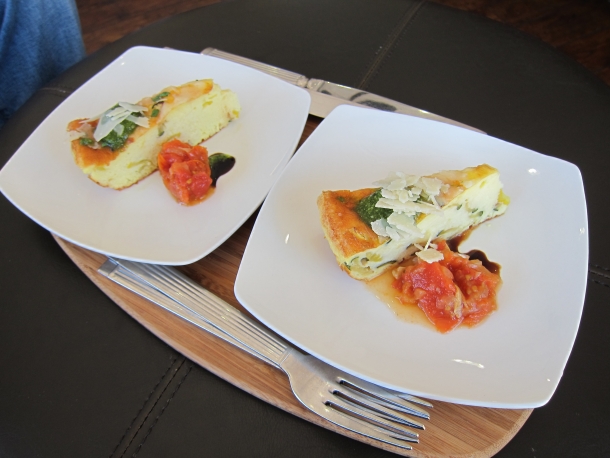 Second dish: Antipasti platter with asiago cheese twists, cranberry toastinis, fresh cheeses, prosciutto, candied walnuts, grapes, and a fig compote. Everything tasted extremely fresh and paired together perfectly!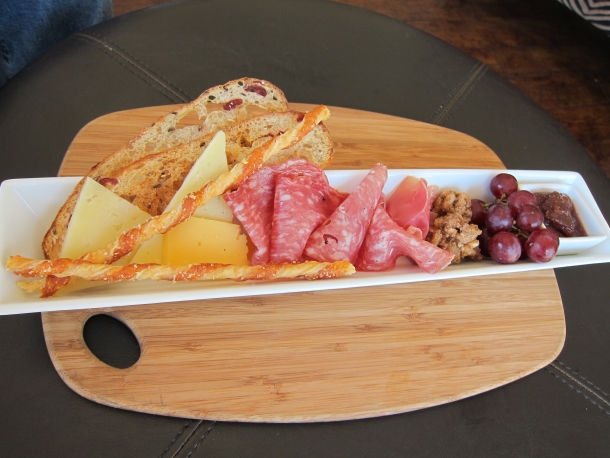 Third dish: Flatbread with shaved nectarines, blue cheese crumbles, shaved parm, sliced grapes, prosciutto, and arugula. Yum!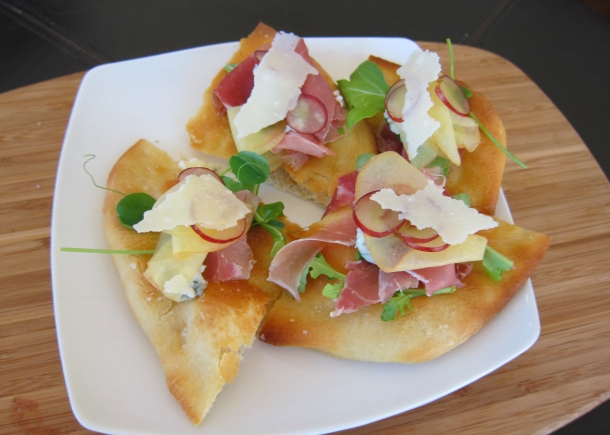 Fourth dish, dessert: I don't even know where to begin with these descriptions, everything was so good. The honey cantaloupe sorbet is incredible,  the nutella mouse over chocolate cake with a dark chocolate swizzle stick is a chocolate lover's dream come true, and the blueberry citrus cheese cake layered on top of sponge cake with lemon mascarpone mouse and topped with fresh blueberries is truly a little bite of dessert heaven!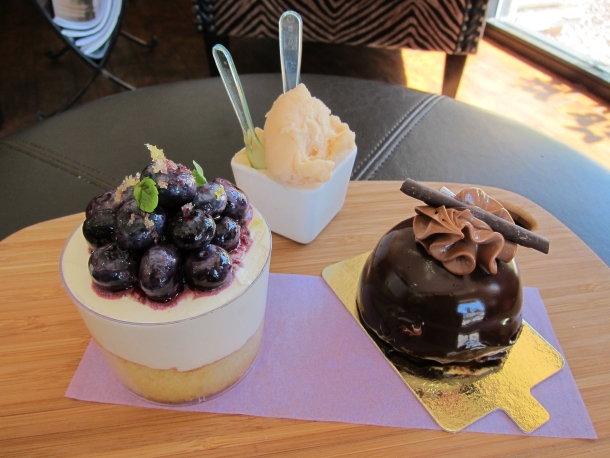 For a drink I had the strawberry – peach iced tea with fresh strawberry slices. (So good)!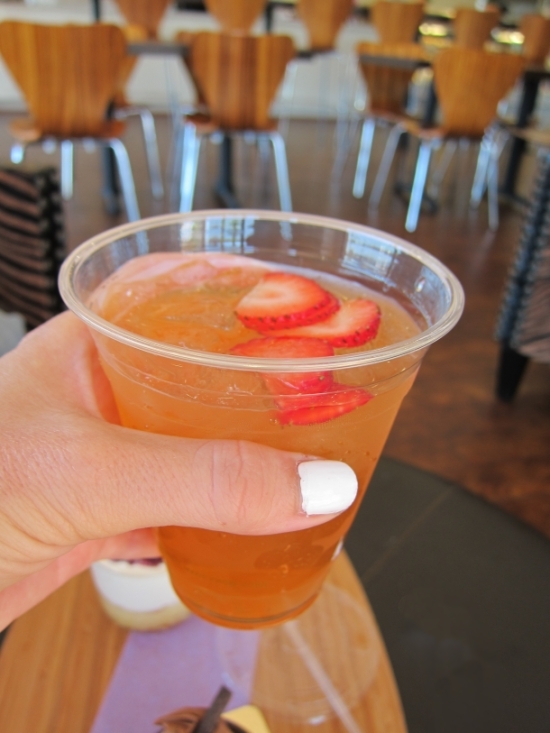 Megan shares some of her sweet recipes in her book "It's A Sweet Life", which I started reading during my visit.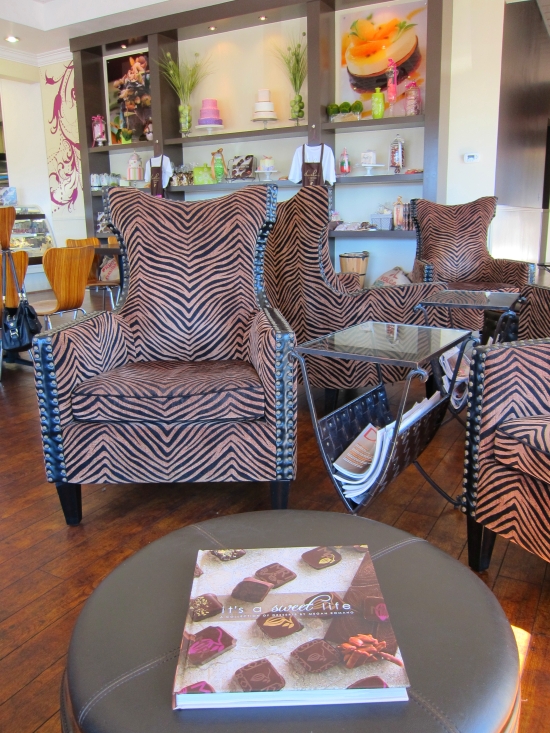 Chocolates…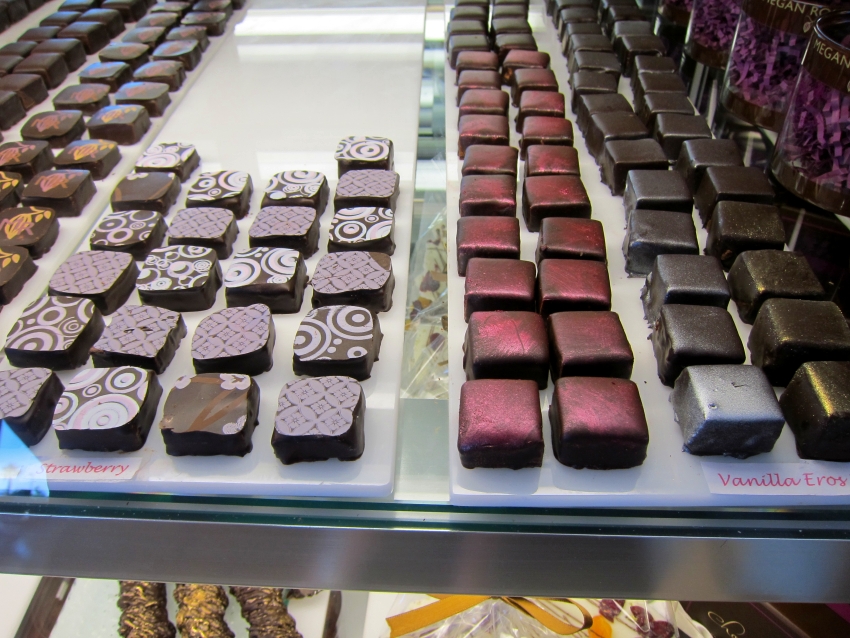 In the photo below: Megan Romano, (left) began her career in the culinary world at restaurants including Aureole, Lespinasse, Charlie Trotter, and Charlie Palmer's Aureole, before opening Chocolate & Spice.
Keri, on the right, is the bakery's sou chef. Keris started her career in Hawaii, where she grew up at Hokulani Bakery in Honolulu. She then worked at several award winning restaurants including Charlie Palmer's Aureole.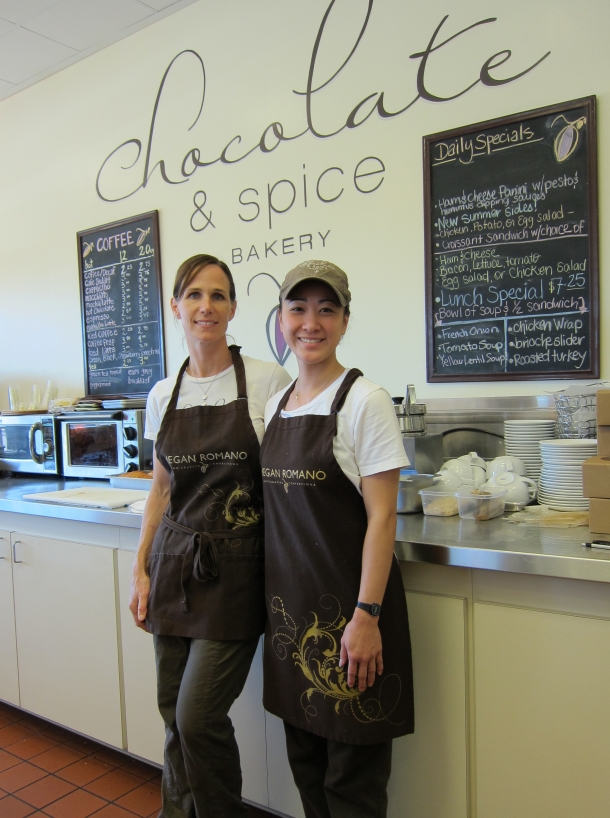 "Chocolate & Spice Bakery is my vision of a classic artisan bakery where the smells of fresh baked pastries, hand-made bon bons, truffles coated in cocoa powder, seasonal fruit sorbet, creamy whimsical ice cream, crunchy cookies, simply flavorful savories fill the air." ~Megan Romano ~Chocolate & Spice website
Chocolate & Spice is located a few miles off the strip at 7293 W. Sahara Ave.
[nggallery id=225]