For as long as I can remember, October has been designated the "scary month."  However, a little unknown designation – something even more sinister – the SWEET TRAP – has emerged to make October even more exciting! Yes, October is National Dessert Month.  As a matter of fact, October is full of sweet dates.  And for most, it definitely is a trick to think we can pass up treats.  But the same way we learn to love October for its rich color, we can learn that we can actually enjoy all that the month has to offer.  Even treats. Do we really need a reason to celebrate desserts – dessert cocktails – a trend that's heating up across the U.S. as bartenders and mixologists are turning delectable indulgences right to the cocktail glass.  Now, you can sip your dessert with some great dessert cocktail recipes. And this is just in time for holiday and home entertaining this fall season.
Have a look at the recipes below.
1. Iced Chocolate Cake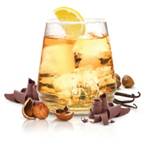 **Only 137 calories!
1 oz. Frangelico
1oz SKYY Infusions Citrus
Combine in a short rocks glass.
2. French Coffee Cake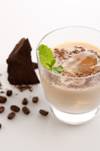 2 oz. CAMUS VSOP Elegance
1 oz. Irish Cream Liqueur
Pour directly into glass filled with rocks.
3. Standard Strawberry Shortcake

1.5 oz Russian Standard Vodka
4 – 6 strawberries
Juice of half a lime
3 tsp. sugar
Crushed ice
In a tumbler, muddle the lime juice, sugar and strawberries to create a paste. Top the glass up with crushed ice. Add vodka and stir well. Top with extra crushed ice and garnish with a sliced strawberry.
4. Passion Fruit Mousse Cake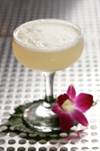 1.5 oz CAMUS VS Elegance
0.75 oz Sweetened Condensed Milk
0.75 oz Passion Fruit Concentrate
Add all ingredients to mixing glass and stir with no ice to mix. Add ice, give a hard shake, and strain into a coupe glass.
5. Licorice Vanilla Cupcake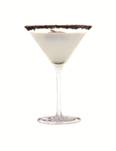 2 1/2 oz. Van Gogh Vanilla Vodka ®
1/2 oz. LUCID®
1/2 oz. simple syrup
Crushed chocolate cookie on rim
Chinese Star Anise
In an iced filled shaker, add the vodka LUCID® and simple syrup. Shake thoroughly and strain into the chocolate crumbed rim martini glass.
Garnish with the star anise.
6. Chocolate Rum Cake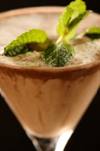 2 oz. Flor De Caña 7-year Grand Reserve
4 mint leaves
1 scoop chocolate ice cream
½ oz. vanilla syrup
½ oz. Licor 43
Caramel foam**
Pour all ingredients in a mixing glass. Shake for 20 seconds. Serve over chilled martini glass. Top with layer of caramel foam.
For caramel foam:
2 oz. heavy cream
1/2 oz. liquid caramel syrup
dash of cinnamon
Combine heavy cream with syrup + cinnamon in a dry shaker until emulsified.