I am an avid gardener, and the more flowers the more colorful our yard becomes. Violets are known for their rich colors, and their scent is unique too, coming and going with an unpredictable, almost moody way.
Crème Yvette turns this one-of-a-kind flower into something appealing to the taste! A liqueur made from Parma violet petals, Crème Yvette combines other natural flavors into something sweet, thick, rich and memorable. It's a beautiful dark red berry color with a full-bodied appearance. "This is one of the most interesting liqueurs I have come across in a while."
Violet petals, blackberries, red raspberries, wild strawberries and cassis (black currents), and a spice blend of honey, orange peel and vanilla completed the flavor profile. How's that for a delicious list of ingredients? And for people who like interesting-looking bottles for their collection, Crème Yvette's rounded, almost bell-like shape is one to display!
The story behind it is interesting, too. Crème Yvette was discontinued for a while, practically forgotten about, except by cocktail experts. It was revived by Robert Cooper, who was working for Jacquin and became interested in the backlog catalogue of d-listed products. "I kept asking questions about this unusual product called Crème Yvette," said Cooper.
Crème Yvette had faded from the market in 1969. The formula for Crème Yvette had been in Cooper's family since his grandfather acquired the rights to it from Sheffield of Connecticut back in the 1930s.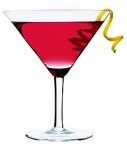 Crème Yvette Martini
What You Need:
(Makes: 2 serving)
1 ounce of Crème Yvette
4 ounces of Absolut Citron
1/2 ounce of Grand Marnier
Garnish: Lemon peel twist or 4 fresh Violet petals (optional)
What to Do:
STEP 1) Add ice to a cocktail shaker and pour in the Crème Yvette, Absolut Citron and Grand Marnier.
STEP 2) Shake for 25 seconds, stain into two chilled martini glasses. Garnish each martini glass with a lemon peel twist or 2 fresh Violet petals.
STEP 3) Enjoy!
Stratosphere Cocktail
What You Need:
3/4 ounces of Crème Yvette
A bottle of Champagne
What to Do:
STEP 1) Pour the Crème Yvette into a champagne flute and fill the glass with champagne.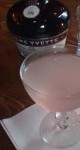 Union Jack #2
 What You Need:
1 & 1/2 ounces of London Dry Gin
1 tablespoon of Crème Yvette
What to Do:
STEP 1) Add ice to a cocktail shaker and pour in the gin and Crème Yvette. Shake well and strain into a cocktail glass.
For more recipes: http://www.cremeyvette.com/cocktails_1.php
Crème Yvette is product of Cooper Spirits and is  available in the following states:
Arizona, California, Colorado, Connecticut, DC, Georgia, Idaho, Illinois, Kentucky, Maine, Massachusetts, Montana, Nevada, New Jersey, New York, New Mexico, North Carolina, Pennsylvania, Rhode Island, South Carolina, Tennessee, Texas, Virginia, Utah, Washington.
*For a complete list of where to buy in New York or California:
http://www.cremeyvette.com/where_to_buy.php