Fresh Faces in Fashion is the largest showcase for emerging fashion designers on the continent. The annual shows feature the best emerging fashion designers who have been working under their own label for the past 1 to 5 years.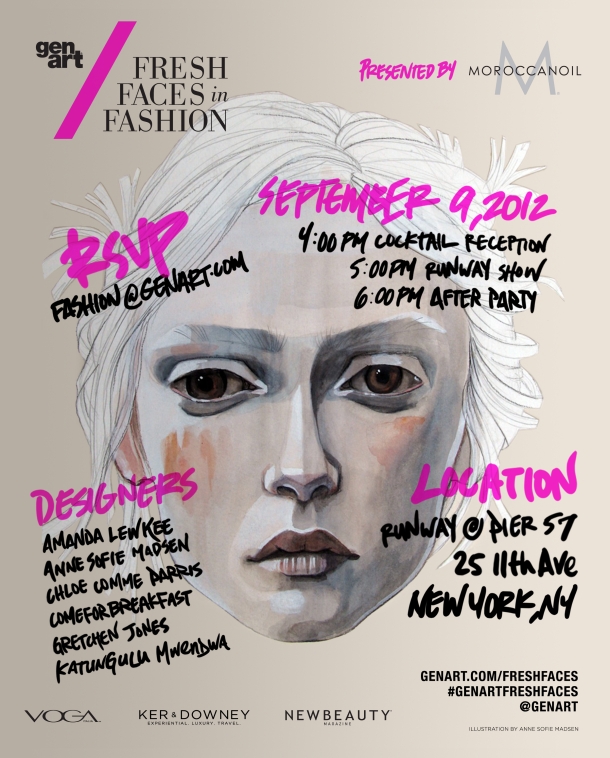 The Fresh Faces in Fashion program is designed to discover new design talent and give them their first exposure to members of the International press, the design community, potential buyers and investors, and an enthusiastic audience of young, art-loving attendees. GenArt's Fashion Program alumni designers include Rodarte, Zac Posen, Phillip Lim, Ohne Titel, Peter Som, Geren Ford, Dannijo, Rebecca Taylor, Raquel Allegra, Vena Cava, Dieppa Restrepo, Maryam Nassir Zadeh, Rodebjer, All Saints and others.
About GenArt: GenArt is a national arts & entertainment company whose mission is to discover and showcase the best emerging talent in film, fashion, music and the visual arts through a platform of national events and customized multi-platform programs. GenArt hosts an array of signature events including the GenArt Film Festival, the Film Screening Series, Fresh Faces in Fashion, The New Garde, and the Vanguard Art Exhibition during Miami Art Basel. GenArt has a 16-year history of cultivating an extensive following of loyal consumers who view them as taste arbiters of emerging talent.
Over the years, GenArt has defined artistic, cultural and social trends, and helped launch the careers of countless influential designers, filmmakers, musicians, and artists.