Someplace between the romantic spirit of the French and the timeless of American sportswear, Catherine Malandrino has created majestic silhouettes that re-imagine a modern New York woman with an aristocratic dimension.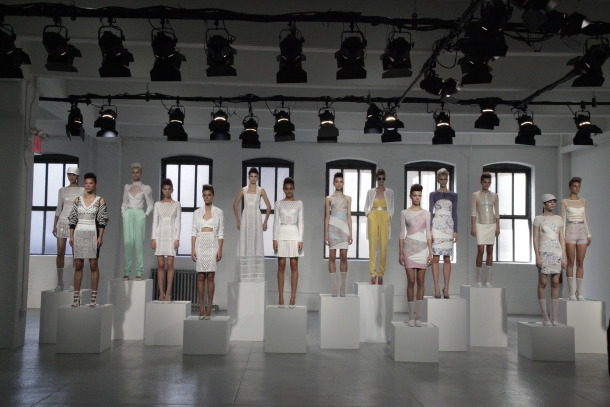 Combining sport with the beauty in royalty, Catherine Malandrino uses a collage of French cotton guipure with stretch cotton jacquard, power mesh, suede. and stretch leather. Windows are cut on the clothing, leaving the geometric pattern to continue the frame work of the guipure. High-waist pants and skirts paired with sporty blousons and Victorian style blouses define confident femininity.
A color palette of frosted blues, mint greens, powder pinks, and pure white illuminated the body like an aura coming down the runway. More pictures from Catherine Malandrino Spring 2013 can be seen below.
About Catharine Malandrino: Born in Grenoble, in the French Alps, Catherine Malandrino had ambitions to be a global luxury designer from a very young age, sketching dresses as a child. She began her professional career in Paris after graduating from Esmod. Subsequently, she worked in the fashion houses of Dorothée Bis, Louis Féraud, Emanuel Ungaro, and in the 1990s, was the creative force at the French label 'Et Vous'. Ms. Malandrino pursued her childhood dreams in Paris couture houses until 1997, when she met her business partner, Bernard Aidan, and followed her heart to New York City. After relaunching the Diane von Furstenberg collection, she and Mr. Aidan started their own labels, the Catherine Malandrino Collection and the Catherine Malandrino Limited Edition.