While Fashion's Night Out was a mad dash around Manhattan, I did take a few moments out for a little fun with some of my fave New Yorkers and out-of-town fashionistas.
Along for the evening was my good friend and soon-to -be Vixen, Ak-47. This year, Ak-47 and I managed to hit up over a dozen FNO hotspots in New York City, despite massive crowds and over-flowing modes of transportation.
Here are some photos we took throughout the night.
More after the jump…
While Joss Stone was performing at the Tommy Hilfiger Celebration on the first floor of Macy's in Herald Square, DJ Samantha Ronson had taken over the Fragrance Arcade for the Gucci Guilty party and Celebrity stylist, Derek Warburton, was working the third floor giving styling advice and make-overs to lucky shoppers. Of course, I had to stop by and try on a few, fun fashion items!
While Macy's was definitely heating up, we had to move on if we were going to keep to our schedule! Our plan for the night was to hop on the Barbie Bus which was offering free rides for Fashion's Night Out attendees on their double-decker Barbie Bus. Unfortunately, after a longer than expected wait at the Barbie Bus stop, we had to move on by foot…on to the next!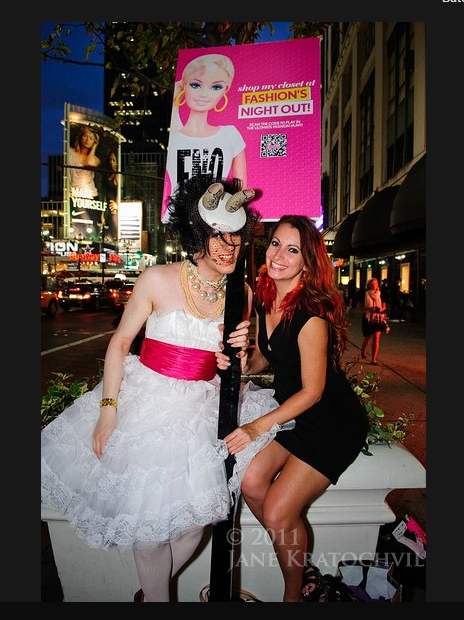 All the above photos were taken by Jane Kratochvil Photography.
Ak-47 is a huge fan of jewelry designer Alexis Bittar so we definitely wanted to stop by the store and say hi to the designer. Before leaving we made sure to get a photo and Ak did a video interview which will go up on the site once it's edited. I wore these amazing, feather earrings by Angels & Divas. They are definitely a statement piece that earned me plenty of compliments throughout the night! (Thank-you Sarah Russolillo for introducing me to Angels & Divas!)
I absolutely love Custo Barcelona so I was excited to stop by the SOHO boutique and check out the FNO festivities there which included a psychedelic DJ booth and 3-d runway show being displayed on a giant flatscreen. The GABONGA Collection will launch at the Mercedes-Benz New York Fashion Week on September 11th at 7PM in Lincoln Center. Hope to see you there!