Yesterday, Derek Warburton was joined by RHONY star Aviva Drescher in dressing five of the women from Bottomless Closet who will be taking the runway on September 12th. Bottomless Closet helps women get back on their feet after they have been homeless/abused/incarcerated, etc. Derek is hosting an upcoming event in which celebrities, including Real Housewives, Gossip Girl Stars, and  the who's who of the fashion world will walk the runway along with 22 women from the charity, all wearing top designers.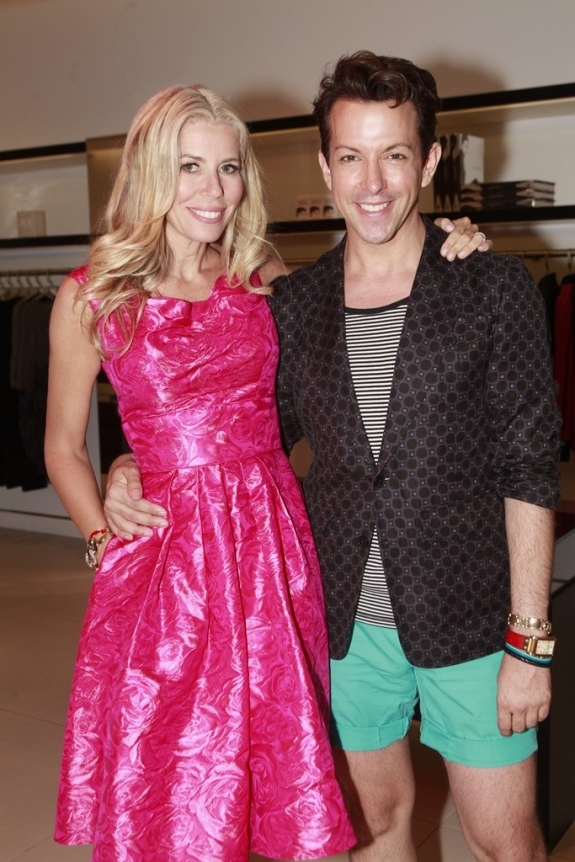 This fitting was the first time these five women saw the clothes that they will be wearing on the runway, and it was a truly great afternoon! Derek Warburton has worked with Bottomless Closet for years, and Aviva was on hand to speak to the women and provide some extra encouragement and inspiration!
Below are additional images from the fitting (credit: Yoni Levy/PhotographybyYoni), and bios of the five women who attended.
[nggallery id=224]
CONFIRMED DESIGNERS
Nicole Miller
Marchesa
Basler
Costello Tagliapietra
Lela Rose
Krizia
JOSEPH
Raul Penaranda
Natalie Champman
More to Come.
 ***FOR TICKETS***
http://realfashionrealwomen.eventbrite.com/
Jennifer
Moving to New York with very little money following a dispute with her mother in Arkansas, Jennifer entered into the Brooklyn Shelter System in 2010. Without any job opportunities and unable to afford any other living situations, the shelter introduced Jennifer to Bottomless Closet. The foundation helped her build her resume and cover letter, as well as provided her with business attire that helped Jennifer land a job as a Brand Ambassador. Jennifer says she "can't wait for her Carrie Bradshaw moment" on the Real Fashion, Real Women runway, and "feels so sexy" in her runway look!
Judith
A member of Bottomless Closet since 2005, Judith got involved with the foundation when she moved to New York from Africa. She credits Bottomless Closet not only with providing clothes and helping update the 3-page CV she used in Africa into a one page resume, but for "being a home", and "offering free knowledge". Judith has maintained her job at a health center since 2006, and is currently going to school for business administration. Her schooling often causes her to miss Bottomless Closet workshops, but she says she made sure to make the casting for Real Fashion, Real Women!
Loretta
At age 54, Loretta has loved fashion her entire life. After working in the men's apparel industry in the 1980s, she changed careers and entered finance, where she worked for a global company for 11 years before they went under and Loretta was displaced. A single mother, Loretta lived off her severance package and savings for three years before she ultimately ran out of funds. After joining Bottomless Closet in 2009, Loretta first secured a job with New York Parks and Recreation and the began working at the Brooklyn Children's Museum. She calls the Real Fashion, Real Women show a "dream come true!", especially given her lifelong love of fashion.
Tenille
Growing up in Washington, DC, Tenille's artistic talents were first evident as she designed and created clothes for her Barbie dolls. After attending the Duke Ellington School for Arts, Tenille moved down to Atlanta where she worked doing interior design for her Church. She gave up her paying job to follow her dreams and move up to New York with no money in 2009, where she interned for Rocawear and was then hired to help design their home collection. Unfortunately, she was the victim of company layoffs and was out of work, choosing to move into a women's shelter in Brooklyn rather than give up on her dreams in New York and move home to her parents in DC. The shelter introduced her to Bottomless Closet, which helped her with interview skills and provided here with clothing. Tenille now works for H+M and is a part time student at FIT.
Anahy
After working at the same company for 13 years, Anahy was let go when the business was sold. A friend in a career training program recommended Anahy go to Bottomless Closet in 2008, and she decided to stop by just one time to get a suit. Not only did she find a suit, but Anahy found helpful workshops, ideas, tools, and motivation to re-enter the workforce, and four years later is still a proud member of Bottomless. Now working full time as an administrative assistant, Anahy credits Bottomless Closet with not allowing her to sink, keeping her energized and motivatioed, and boosting her confidence. She can't wait to rock the Real Fashion, Real Women runway in her Lela Rose dress!
about bottomless closet
Bottomless Closet offers an innovative approach to workforce preparation for disadvantaged New York City women transitioning from unemployment and public assistance to work; services and programming offered through a personalized/one-on-one approach helps eradicate many of the barriers New York City women face in their search for, and retention of, employment. Women are referred through a network of partner organizations once they have a job interview scheduled; Bottomless Closet's programming is designed to support the transition to work. Comprehensive services include the selection of high quality interview attire, 1:1 resume review and interview preparation as well as a broad workshop curriculum that promotes professional development, financial management and personal enrichment. Bottomless Closet's goal is to enable and empower our clients so they may secure and maintain employment, overcome the challenges of poverty and ultimately reach self-sufficiency.
derek's partnership with bottomless closet
I have been involved with Bottomless Closet (http://www.bottomlessclosetnyc.org) for nearly 5 years now and have helped over 500 women. I host a monthly, two-hour workshop called "HOW TO BE DEREK FABULOUS" that helps prepare women for job interviews. With your help, we can change a woman's life by providing clothing that is interview- appropriate and can lead to a successful job.
I started working with Bottomless Closet because these women and their circumstances are part of my personal real life story. I grew up with a displaced mother. We were homeless for 8 months when I was 14 years old. I lived in a tent with no electricity, water or bathroom. I dug our open sewer. But the real story was that my mother had a job the entire time. She was not abused, nor did she do drugs. She was a hard working single parent who got behind on rent. It is a slippery slope to homelessness. I wanted to do my part in caring for these women who became stigmatized due to their circumstances.
Bottomless Closet helps NYC women take the steps necessary to turn their lives around. During the workshop, we spend the first hour on self-esteem building by going around the room discussing all of our challenges. This is a heart wrenching experience. You are never so shocked and moved as being in a room full of women and having one of them admit for the first time that they ran for their lives because their partner was beating them and their children.
Many stories are similar to this, but we also hear about how they have gotten jobs, their children are prospering again, and, with the many questions of "what do I wear?", we move on to the makeover part of our session. The women "shop" with me in the Bottomless Closet boutique, as my team and I prepare them for interviews with wardrobe.