Last week, I met up with one of my girlfriends for lunch in Tribeca for New York Restaurant Week . Since it was NYRW, we were able to do a pre fix lunch option consisting of an appetizer, lunch, and dessert, all for just $24.07ea! This is a great way to sample the menus at various restaurants in NYC for a reasonable price.
We decided to try the Harrison since it has a pretty large menu, which we were able to view online beforehand, and it offers outdoor seating, which I think is the perfect way to spend the afternoon on a sunny day – especially when there is a light breeze blowing across the island.
The service was fast and friendly and I saw plenty of tempting options to choose from both on the food menu and on the beverage menu. I decided to start with an unsweetened, raspberry iced-tea, which reminded me of Starbucks' red passion tea (which I love), and for my pre-fix options, I ordered a smoked bluefish dip to start, the basil chicken & smoked mozzarella sandwich for my main dish, and the strawberry shortcake for dessert. My friend ordered the Affogato for dessert and she was nice enough to let me have a few bites. I'm a big fan of people who share their food – I love sampling as many options as possible and I always return the favor.  – you can see some pictures below.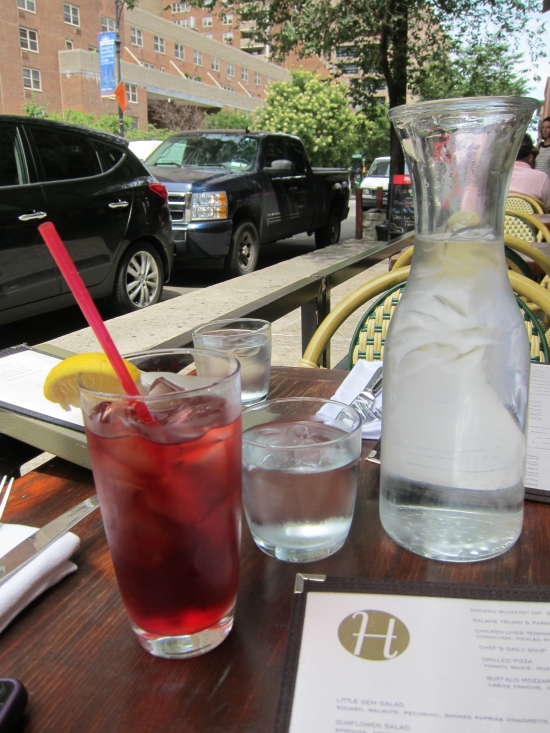 I was really happy with everything I ordered, especially the smoked bluefish dip, which is served cool with toasted bread. This appetizer is surprisingly filling and has the perfect touch of 'smoky' flavor that I enjoy in a smoked seafood dip.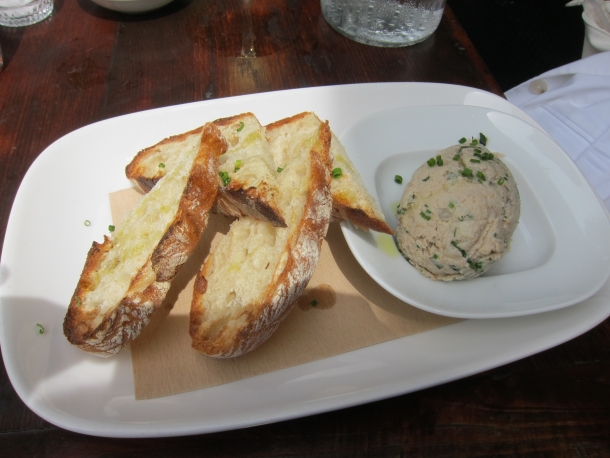 I just about finished my appetizer when my sandwich arrived – served hot with a side of seemingly homemade potato chips, which are my favorite! Since  I swam extra laps in the pool that morning, I figured it would be ok if I indulged a bit.*;-)
This sandwich is made with basil, chicken, mustard onions, zucchini, and smoked mozzarella  all served on fresh ciabatta (I must have been craving that smoked/campfire flavor since I ordered two of the smoked options – first the smoked dip and now the smoked mozzarella). This sandwich is really something special and I think I will actually order it again on my next trip there. The chicken was cooked perfectly so that it was tender and juicy and the cheese was a melted, smoky, mouth watering treat combined with layers of flavor from the mustard and zucchini. The bread was warm, toasted, and delicious.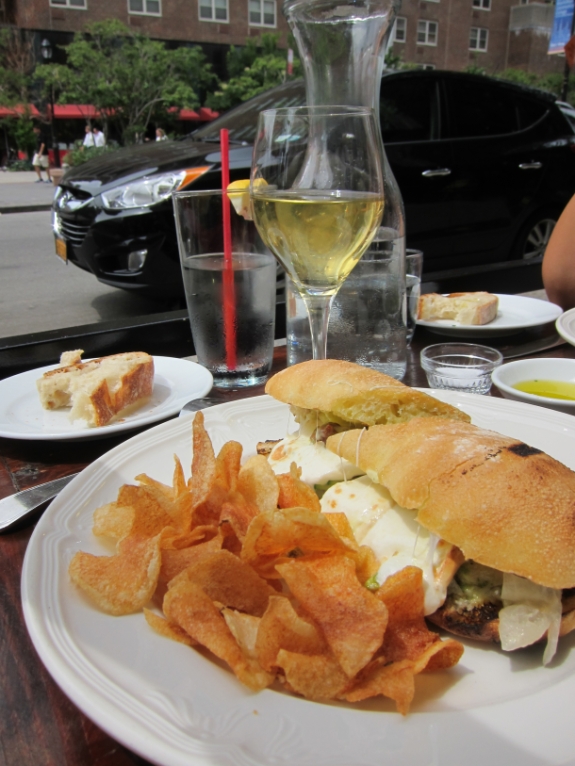 For dessert, I had the strawberry shortcake, which is served on a corn biscuit, adding a very appealing flavor to one of my already favorite desserts! It is topped with fresh strawberries, ronnybrook cream, and garnished with fresh mint sprigs and an orange blossom honey drizzle. (My mouth is watering as I write this!)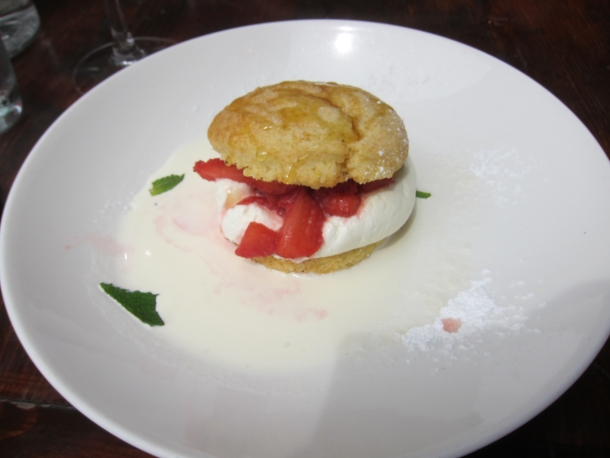 I also sampled my friend's Affogato, served with espresso, vanilla ice cream, and biscotti.  It's hard to decide which dessert I like better, though it is probably the strawberry shortcake by a morsel.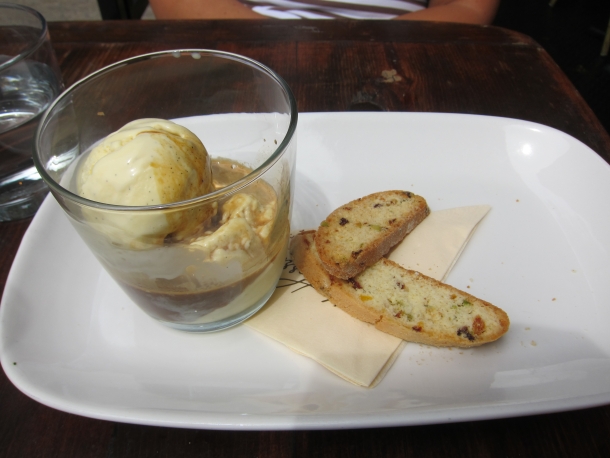 Although, I sat outside, the indoor seating looked comfortable and  I also noticed that there is a private room in the wine cellar for larger parties – I snapped a few photos while I was there. It has a very 'rustic' vibe with the wood finishes and low lighting. I can definitely picture this room decorated for an intimate dinner party with flower arrangements.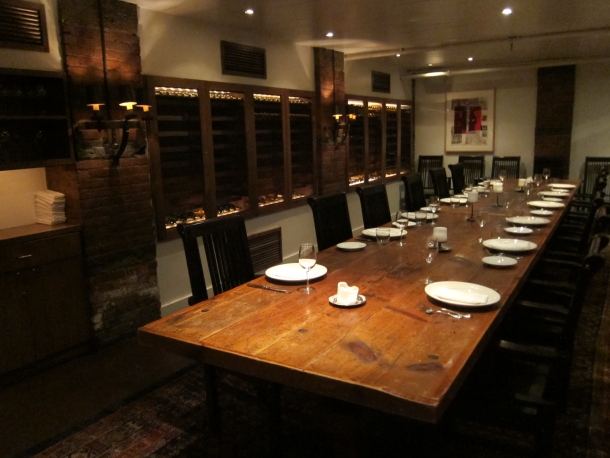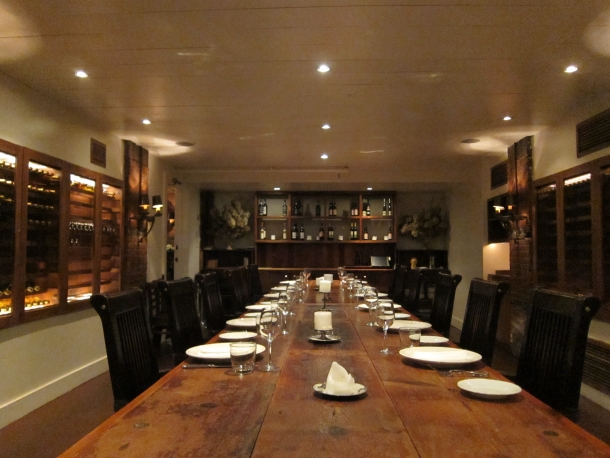 All in all, my experience at The Harrison was extremely pleasant and I would definitely like to go back there, both to re-order my original choices and also to sample some more of the menu's tasty offerings. I would certainly recommend trying The Harrison if, like me, you enjoy outdoor seating in the summer (perfect for having a conversation and people watching), and you like trying new foods.
(Please note that this review was un-solicited and that I paid for my meal.)
About The Harrison:
When Jimmy Bradley launched The Red Cat in New York's Chelsea district, the restaurant became an instant and – as time has shown – enduring success. When he opened The Harrison (355 Greenwich Street) in October 2001, Bradley again proved that his combination of bold, seasonally inspired cooking, sincere hospitality, and thoughtful decor delivers a restaurant remarkably in tune with its neighborhood and the city at large. This is also due to the hard work of Steven Eckler who was the opening General Manager at The Harrison and who, after a brief leave, became managing partner of both The Red Cat and The Harrison in 2007.
Jimmy Bradley is back at the helm in the kitchen with the help of Chef de Cuisine Steve Dustin. With this change the menu will also evolve, offering guests old favorites and new interpretations of the lusty, rustic and soulful dishes that made The Harrison a city favorite when it first opened. Among the menu highlights are starters like Kale Salad with fennel, white anchovies, and bread crumbs; Crisped Gnocchi with oxtail, tongue, and pecorino; and Roasted Quail with almond aillade, herb farinett and sauce portugese. Entrees are a nod to Jimmy's Mediterranean inspired American food, with such dishes as Sauteed Skate Milanese with blood orange, mustard greens, aioli; Grilled Hanger steak with Radicchio, Pancetta and Balsamic; and Braised Pork Shank with cannellini beans, cavolo nero,and salmoriglio. No meal would be complete without Jimmy's tasty side dishes like Truffle Orzo; Spicy Sauteed Broccoli Rabe; and Togarashi Fries. The lunch menu offers options for both a quick bite and a leisurely meal like Sauteed Provolone with vinegar, garlic, herbs and olive oil; Basil Chicken & Smoked Mozzarella Sandwich with mustard onions and zucchini on Ciabatta; and Hearts of Palm Salad with artichoke, peas, parmesan and a truffle vinaigrette, just to name a few. To top things off, Pastry Chef Colleen Grapes promises consistently exciting riffs on classic desserts such as Cranberry Cheesecake with Cara Cara and Blood Orange Salad; Ice Cream Brownie Sandwich with Oat Ice Cream, Sazerac Caramel and Pecans; and Steamed Lemon Pudding Cake with shortbread, huckleberries, and lemon cream.