Wow, if last night is any indication of how awesome 2015 is going to be, then I'm in for a real treat!
I absolutely can not think of a better way to have celebrated the New Year's Eve countdown than by dancing to Iggy Azalea at Drai's nightclub in Las Vegas.
One of my favorite performers, in one of my favorite cities, with one of my favorite people (the bf, duh). It was truly a win/win/win.
Not to mention, the view of the Las Vegas Strip and the celebratory fireworks are spectacular from this location, so the overall experience was pretty freakin' awesome!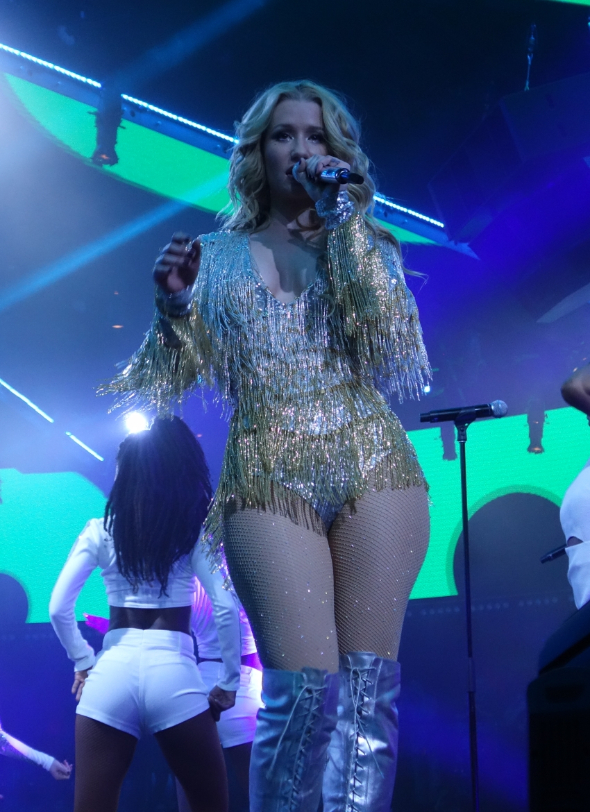 Drai's is located on the 11th floor of the Cromwell and boasts some pretty spectacular views of the Las Vegas strip! Additionally, there are 3 large pools, 5 smaller, but private (VIP) pools, multiple private cabanas, 4 full service bars, a gourmet kitchen and a killer sound system and light show!
This year, the temperatures in Las Vegas plummeted to below freezing numbers (we even saw some snow flurries during the day!), but thankfully, there were plenty of infrared heaters placed throughout the outdoor areas, so it was easy to stay warm.
Iggy Azalea and Nick Young arrived to the club just before midnight. As the countdown reached zero, and the clock struck midnight, they went on stage and wished everyone a happy New Year!
Meanwhile, confetti blasted out from the stage and the fireworks began going off over the strip! Soon after the fireworks ended, Iggy performed a full set which included her songs Work, Bounce, Black Widow, Beg For It, Problem, and Fancy. She was super upbeat and after her set, she returned to her VIP booth where she spent a good amount of time reaching out to her fans, posing for photos and just generally being a great sport.
I was a fan before, but after watching her interact with everyone my love for Iggy has grown to even new levels – she is AMAZING!
Pics below…