Ever since catching the Poker bug in Puerto Rico, I'd been wanting to attend a table tournament so I could get a feel for the atmosphere of a live poker room and take notes on how things are done – table etiquette, etc.
With the 2014 World Champion of Poker title up for grabs, Foxwoods Casino hosted a satellite tournament, with a few lucky winners scoring a seat in Las Vegas and ultimately, the chance to win the $10 million first prize. Last month, I decided to head out to Foxwoods and watch some of the action in play.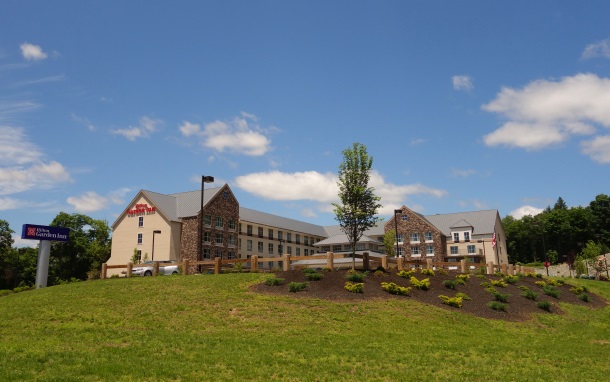 Since I was going to be in the area, I decided to accept an offer to review the Hilton Garden Inn, located in Preston Connecticut, which is less than two miles away from Foxwoods.
HGI is owned by the same entrepreneur who owns the Bellissimo Grande Hotel, which I reviewed a couple of years ago. Both are great properties that cost about half of what you'd expect to pay at the casino's hotels. Additionally, both Bellissimo Grande and the Hilton Garden Inn have plenty of amenities (listed below) and a staff of hospitable employees who strive to make your stay a great experience.
Walking into the lobby, it's clear that the interior design reflects the 'Garden' part of the hotel's name. The lobby is bright and welcoming with many indoor plants and hanging garden lights. There is a table set up with iced lemon water and cookies, and a sign hangs behind the check in desk that reads: "a garden's path can take you anywhere…"  
Photos and additional details after the jump…
During my stay, I enjoyed two nights in a King Bed Suite, which has a kitchenette with a microwave, a Keurig® coffeemaker, a sink with granite counter tops, and a mini refrigerator that's perfect for keeping your favorite snacks and beverages cool.
The best part of the room, however, isn't the fact that you can keep your Sugar-Free Red Bull®, Champagne, and strawberries cold, but the fact that you can enjoy a glass of (insert beverage of choice here) in the room's jetted tub (room for two, wink, wink). When you stay here, make sure to set some time aside to just sit back and relax – it's definitely a nice set-up!
Additional features of the room include 2 HDTVs with premium channels, a Serta mattress with Pacific Coast bedding (so comfy!), and an ergonomic Mirra Chair by Herman Miller, which btw, is no joke – that chair is awesome. Google it.
While the accommodations are pretty awesome, the service is even better.
It was my experience that the folks who work at the Hilton Garden Inn really go the extra mile to make you feel comfortable during your stay. (Note: I did not mention to the employees that I was going to do a review, in order to get a non biased experience).
For example…
When I checked in, Chad P. was working at the front desk. He was super friendly and made me feel welcome by asking me about my day and plans for the weekend. He made it his personal mission to see that I would enjoy my experience at the hotel.
Josh, my server at breakfast, was extremely accommodating , despite the fact that I arrived ten minutes before breakfast was over. He made sure I had everything I needed, and checked back often to see that I was doing OK, and even made suggestions when I was (tiredly) being indecisive.
Melissa – the bartender/waitress definitely went above and beyond. Not only did she make me a great mojito, but she went the extra mile by giving me a short tour of the conference room that she just finished setting up for an event. She even showed me some photos from her wedding that she kept on her phone, because, guess where she hosted the big day's reception? – the Hilton Garden Inn!
At checkout, Stephanie made sure to not only ask how my stay was, but to ask if there was anything that they could have done better. She had great energy that would make anyone smile.
Below are some photos I took during my stay as well as an additional review of the food I ordered.
The lobby…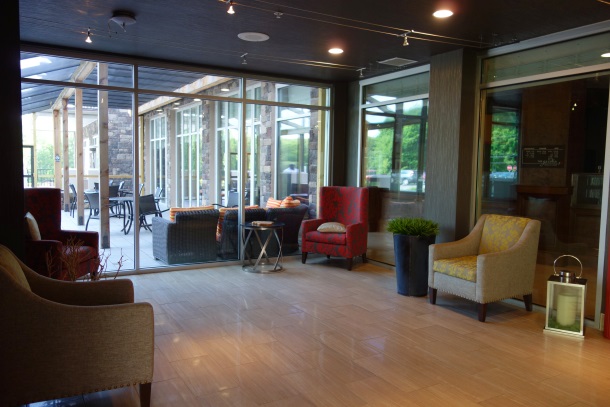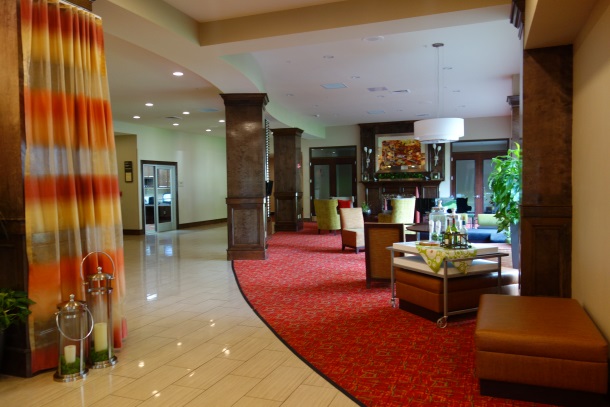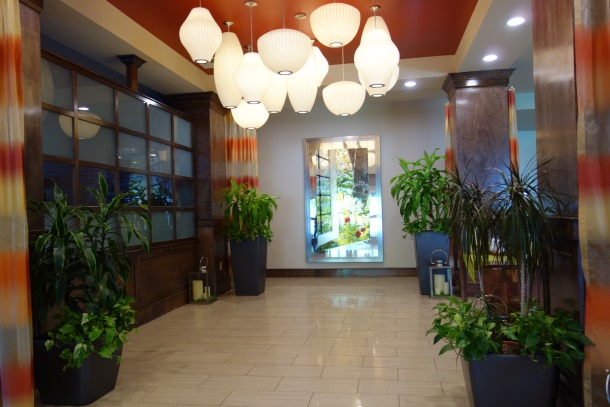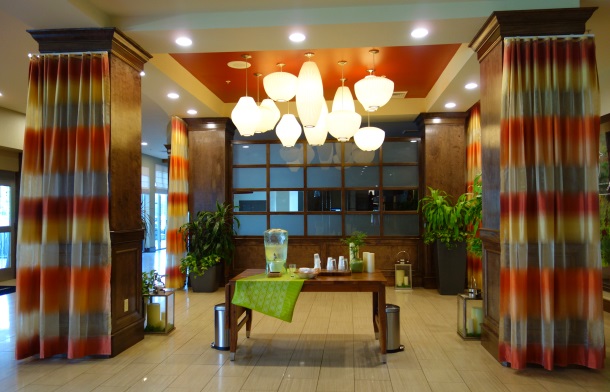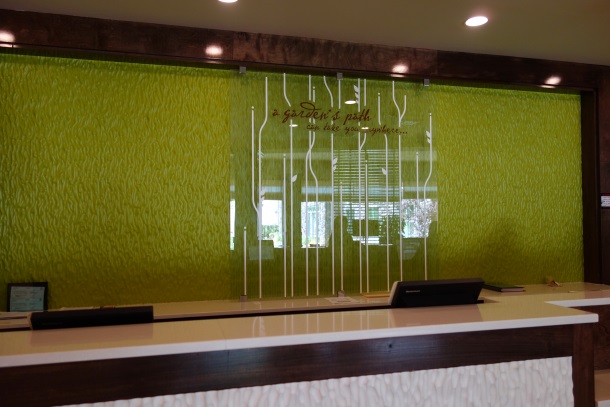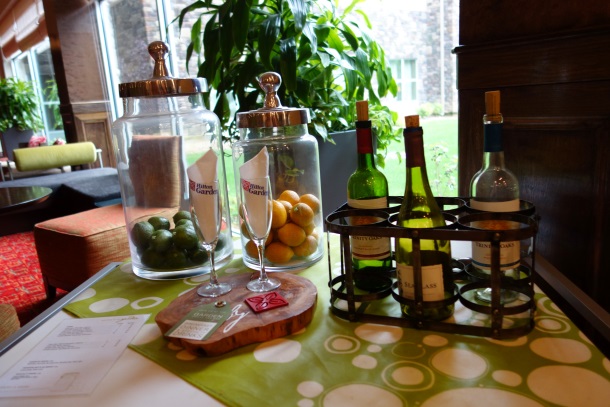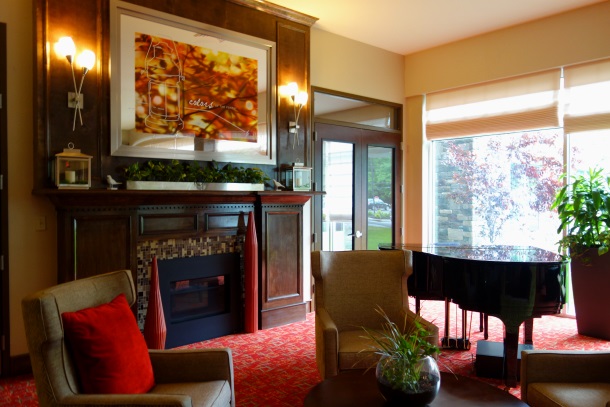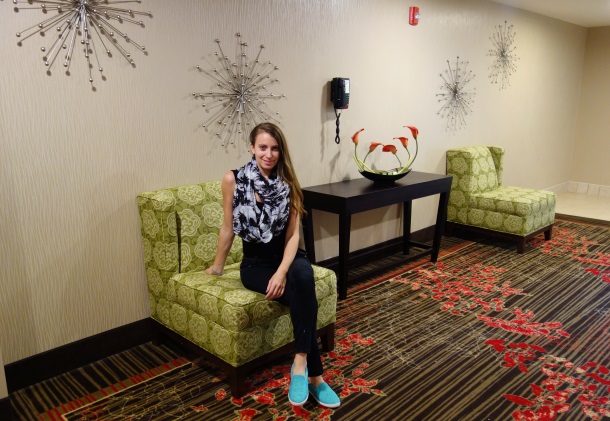 The king bed suite with jetted tub…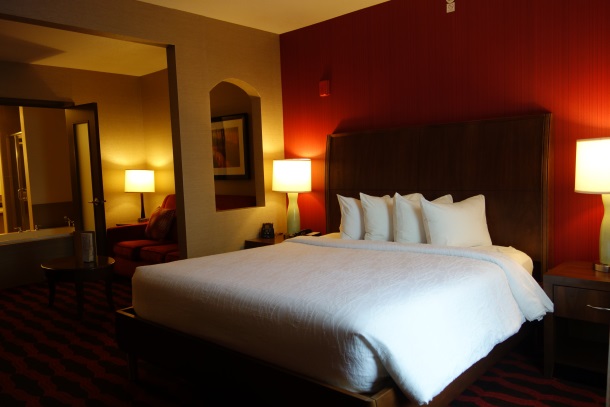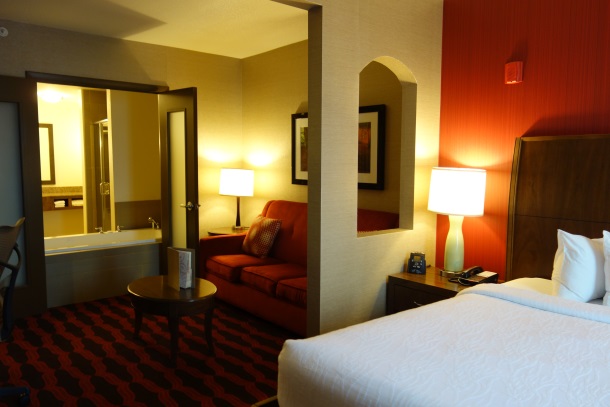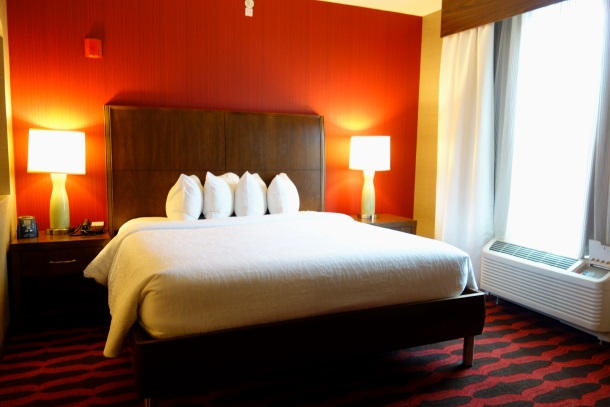 Below: A separate sink area (perfect for cutting strawberries and/or limes),  a non stocked fridge, microwave, and a Keurig machine.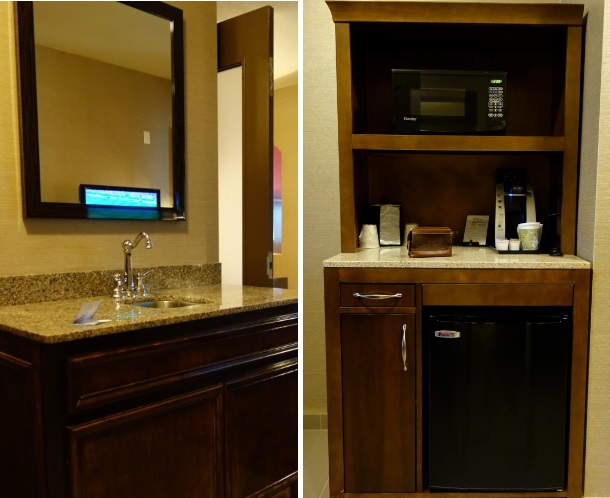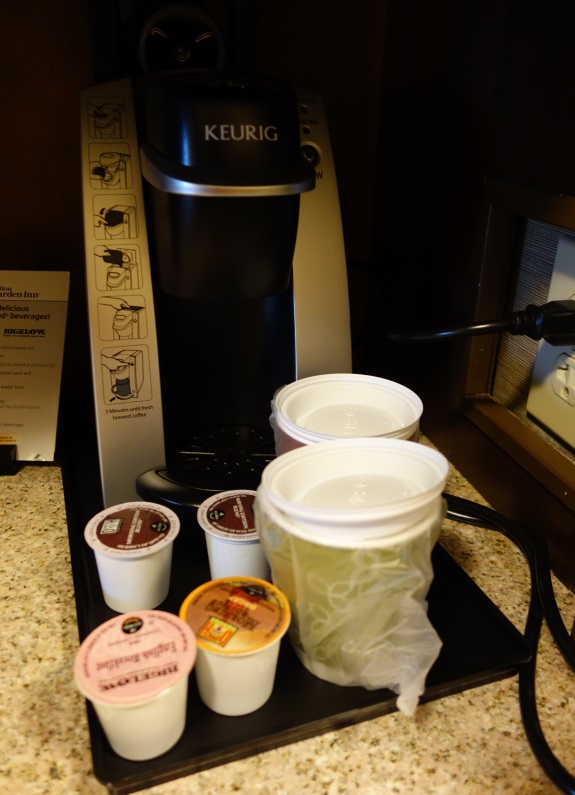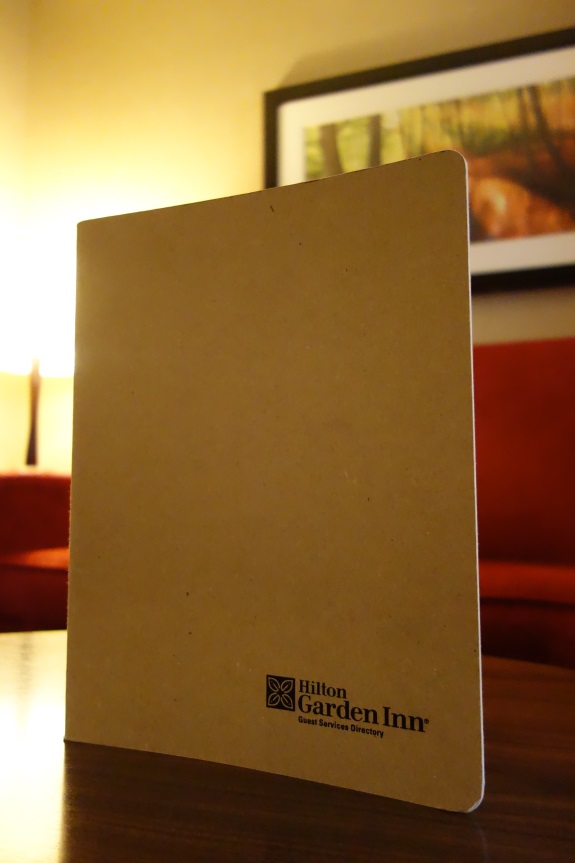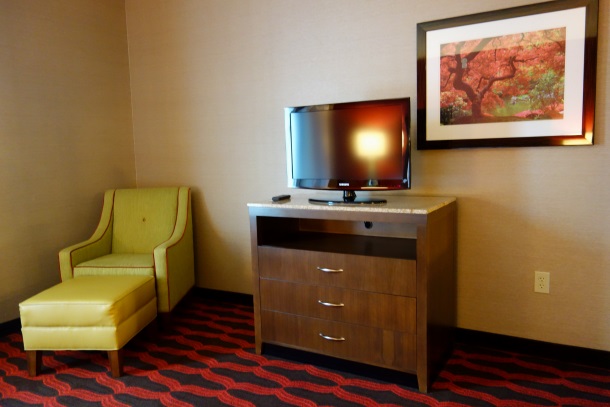 Awesome carpets… make for gratuitous #ShoeGram pics!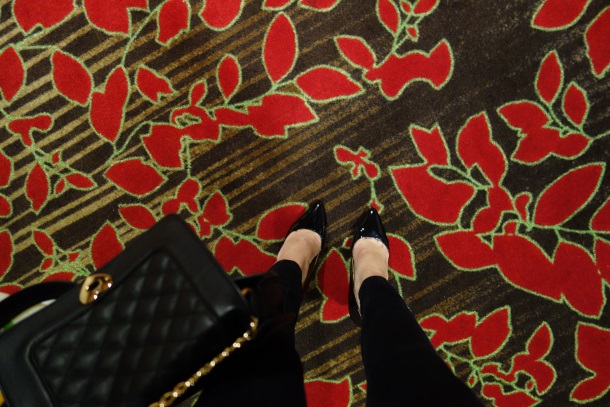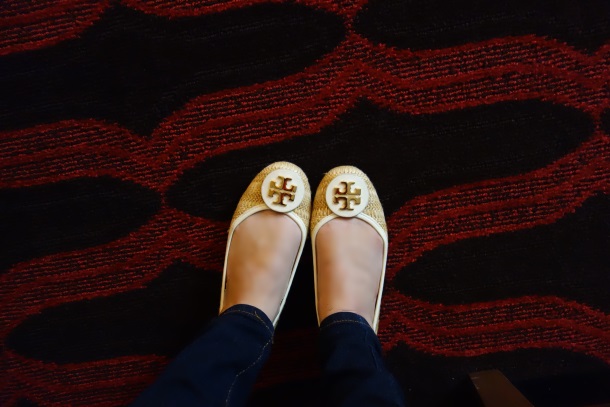 The Bf was obsessed with this chair… apparently they're all the rage!
So are fire breathing dragons… as demonstrated on one of the two flat screen TVs in the room.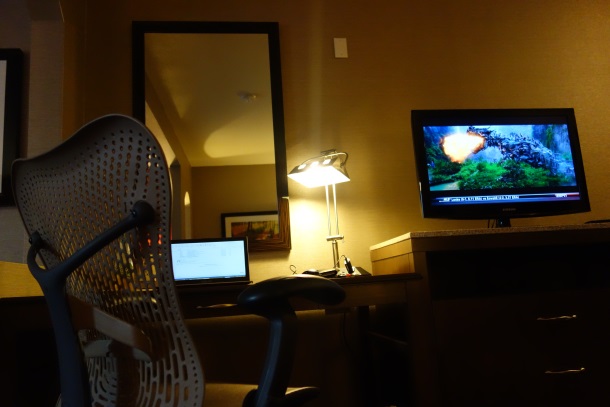 The bathroom…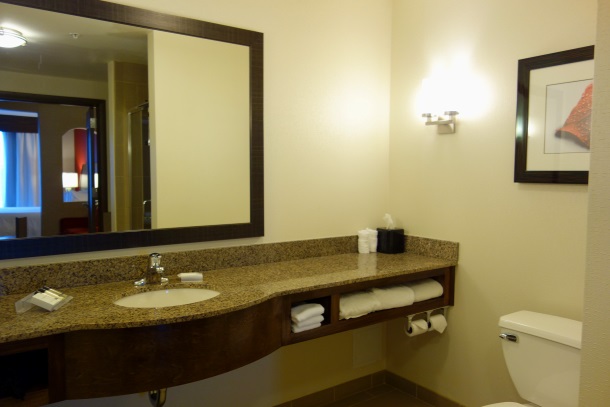 A jetted tub plus a bottle of bubbly = A very relaxing night. There is also a separate stand up shower.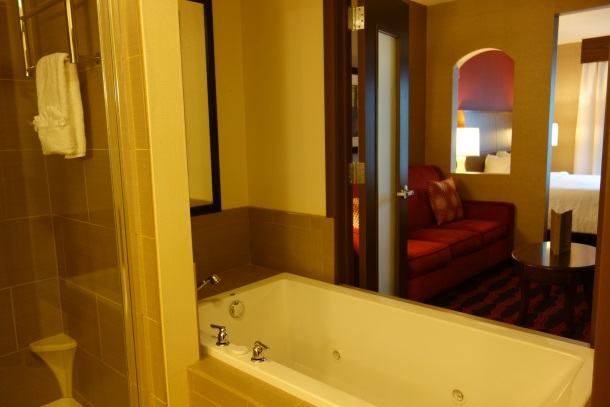 Neutrogena bath products…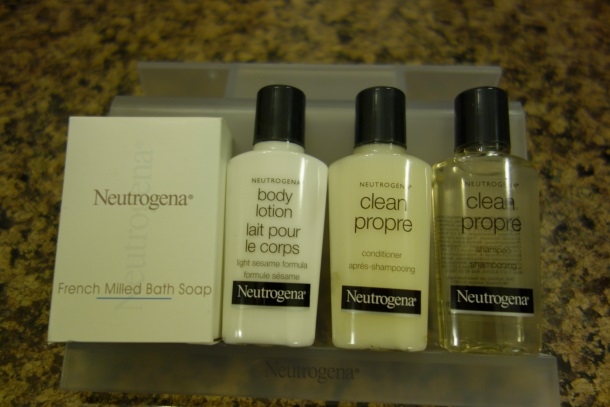 Around the hotel…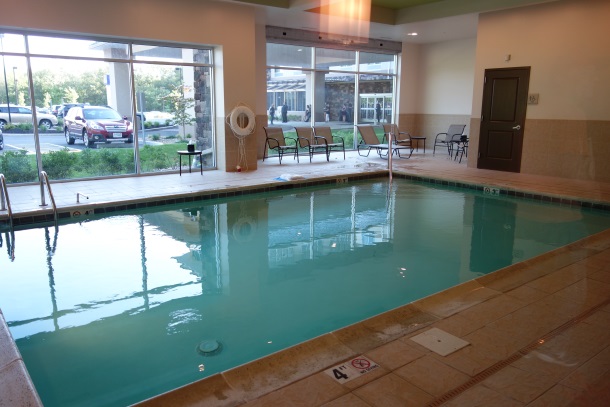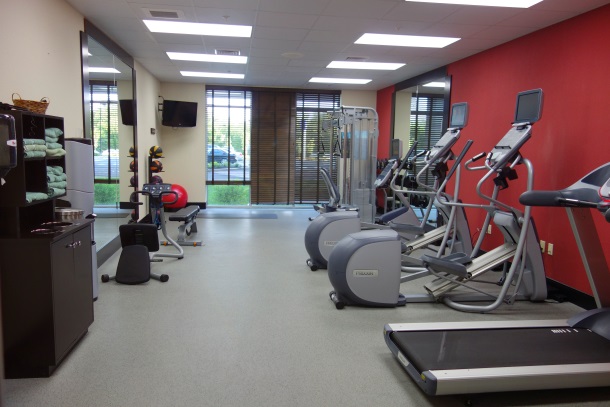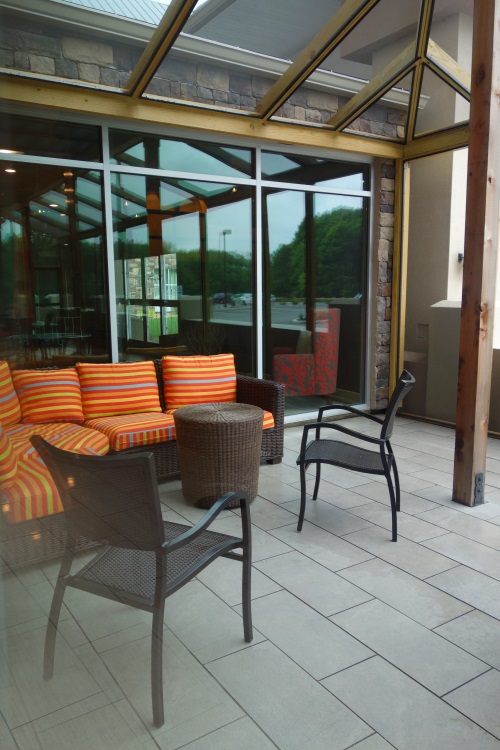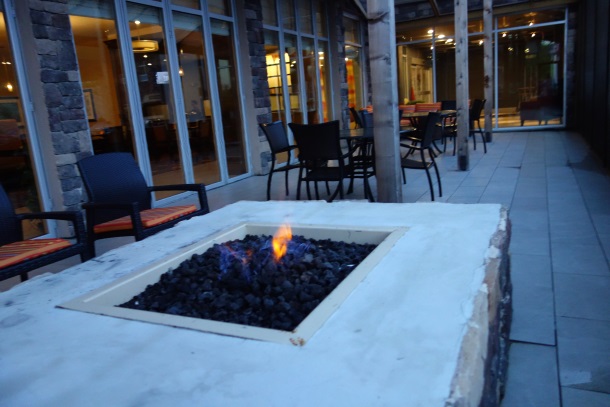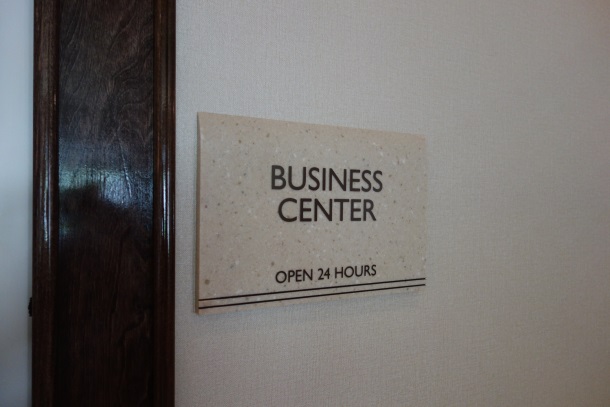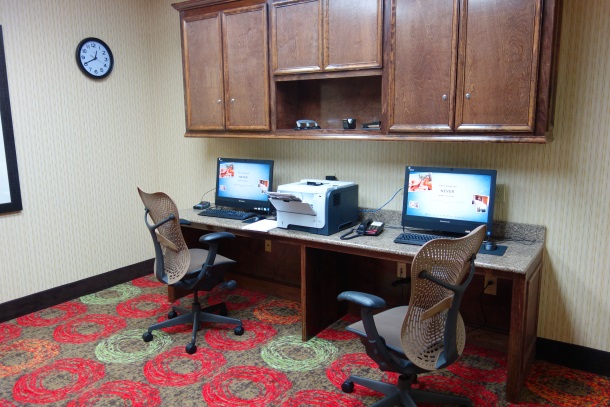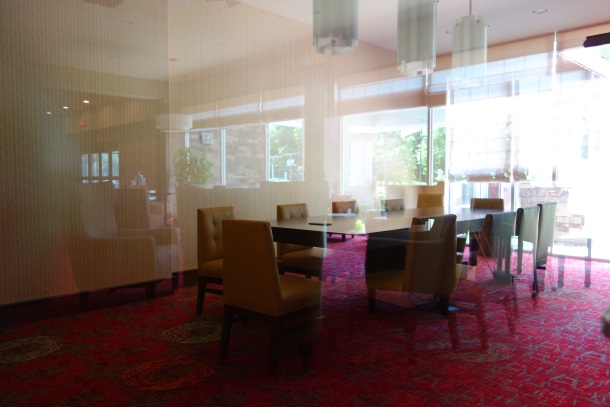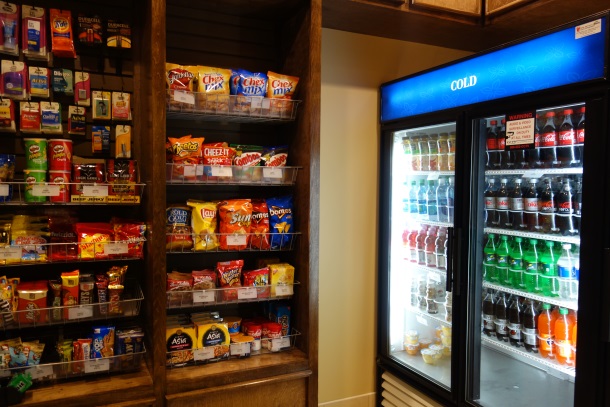 Food…
My first night, I ordered room service; a cup of clam chowder to start, followed by an entree consisting of sirloin steak with an herbed butter (on the side), freshly steamed veggies ( asparagus, carrots, and pea snaps) and a side of bacon and brie mashed potatoes (thank God there's a gym in the building).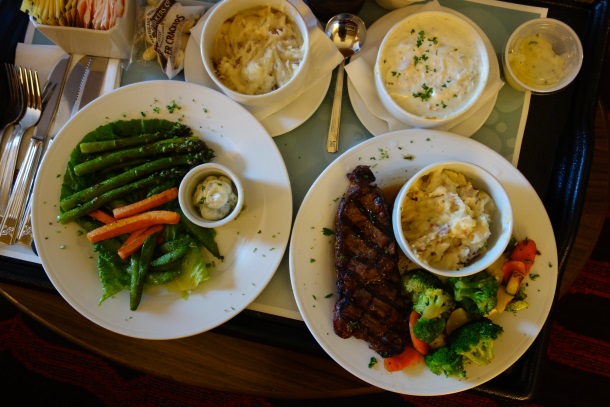 My second night at HGI, I decided to have dinner downstairs. There is a restaurant/lounge area that has both indoor and outdoor seating. The outdoor seating is completely screened in so you don't have to worry about bugs, but can still enjoy being outside. There is music playing (not too loud) and a fire pit that you can sit around.
I ordered a little bit more than I could eat since I wanted to sample the menu. I started off with the grilled vegetable tortellini in a white wine, pesto sauce and then a bourbon apple pork tenderloin with a brown sugar glaze, served with a side of four cheese mac and cheese (yum!).
The tortellini and pok tenderloin were delicious, but my favorite entree ended up being the steak sandwich!
Topped with Swiss cheese, mushrooms, caramelized onions, and a creamy horseradish sauce, the 'steak and shrooms' sandwich was a home run! The bread was toasted to perfection and after just one bite, I was completely sold (drool)!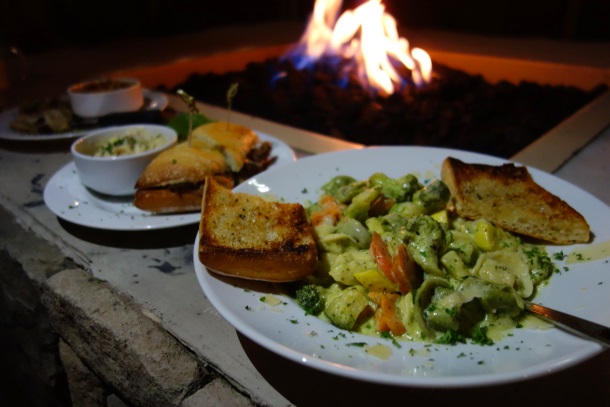 Below: Pork medallions with a baked macaroni and cheese. The four cheese mac and cheese (topped with herb bread crumbs) was some of the best I've had in a really long time – I def recommend getting that as a side if you eat here.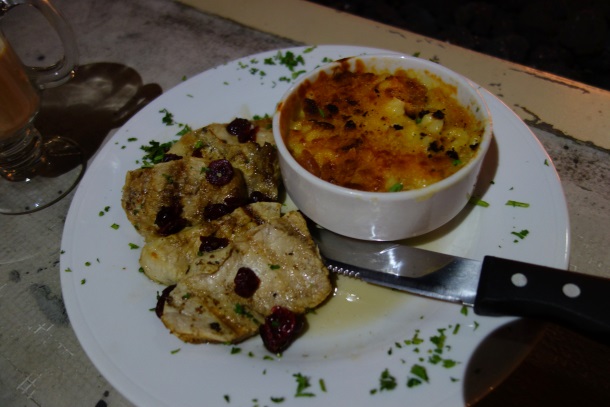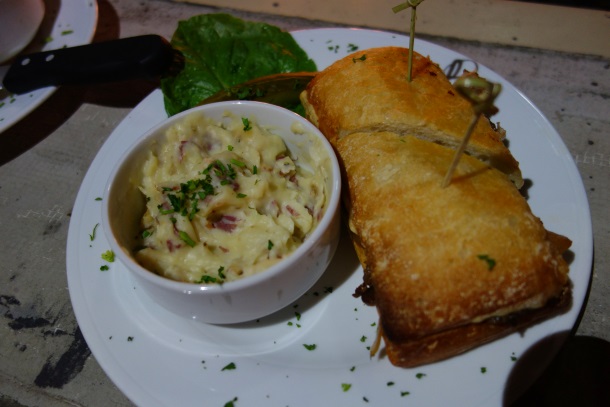 Breakfast…
For just under 12 dollars, you can enjoy an all-you-can-eat pancake, french toast and omelet station with a small buffet of sides like fresh fruit, bacon, sausage, home fries, breads, pastries and a waffle maker. Of course, there's also the requisite coffee, tea, milk and juice set-up. A waiter brings you your omelette when it's ready, so you don't have to wait in a line, which I think is a nice touch.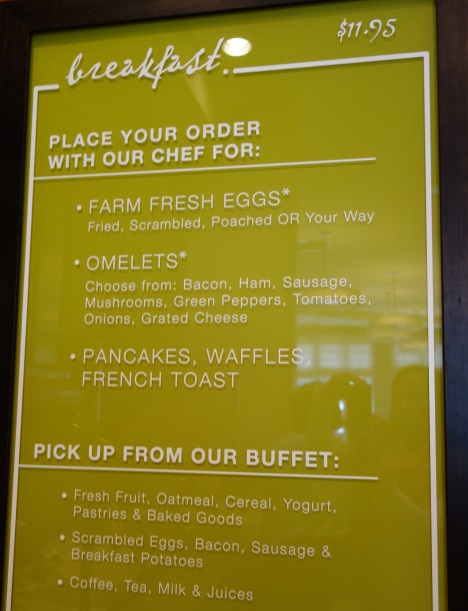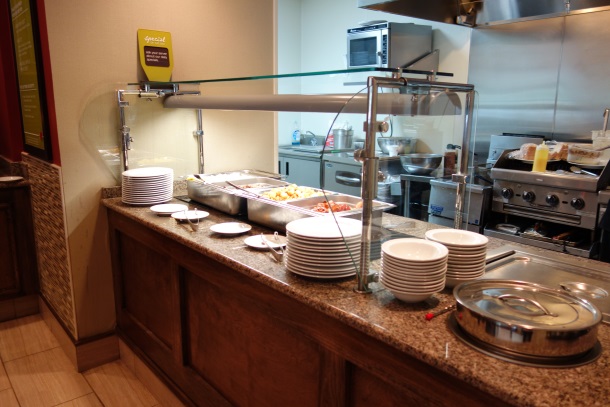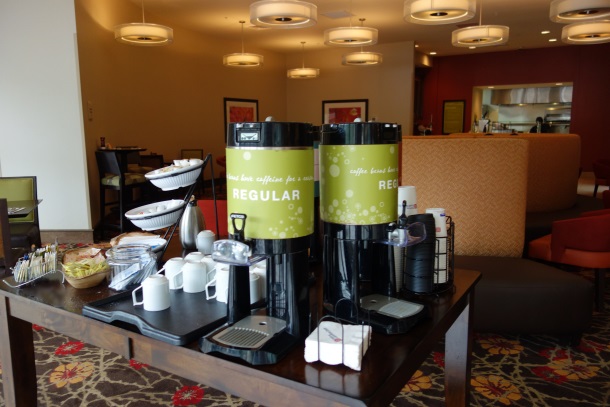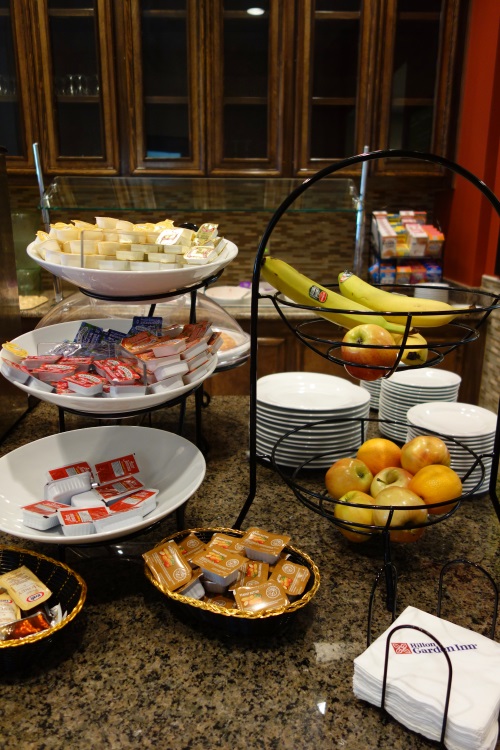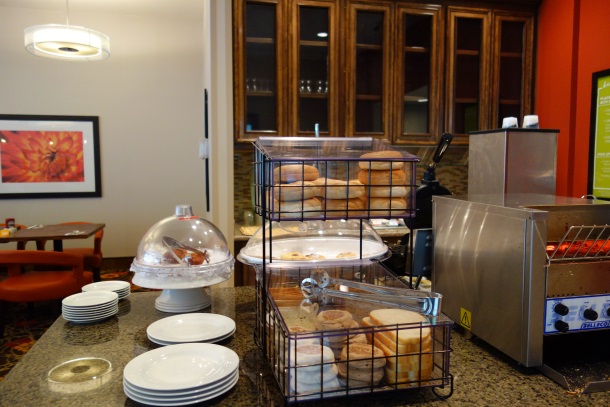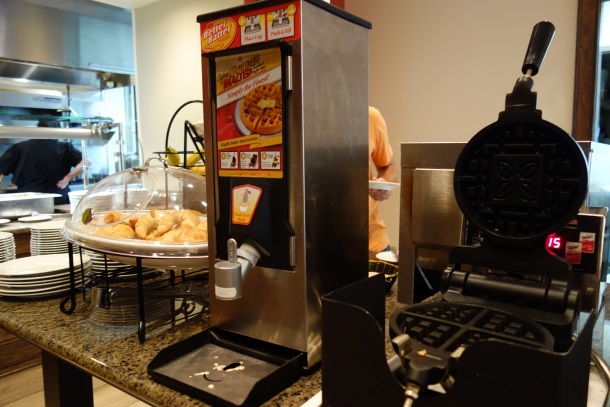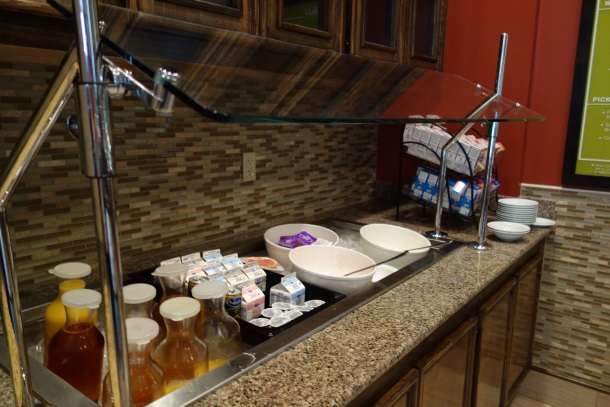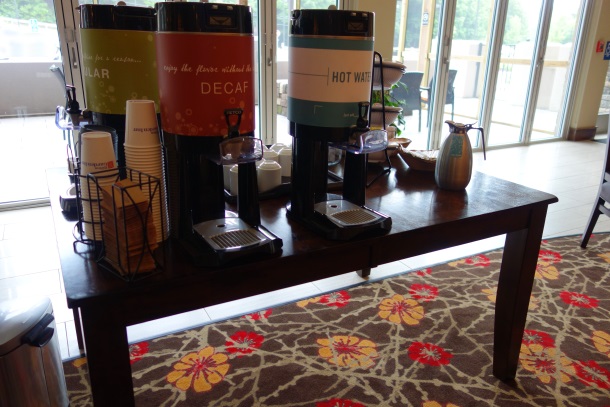 Shuttle to nearby casinos…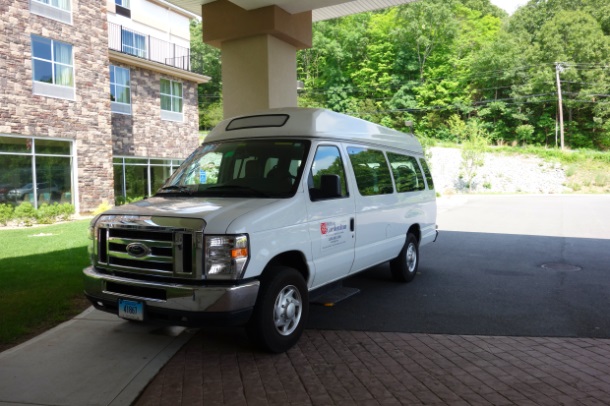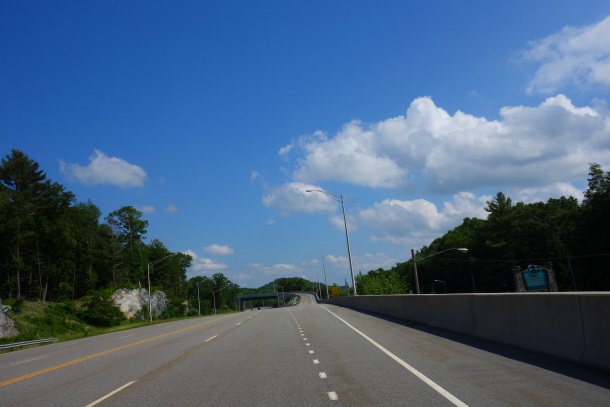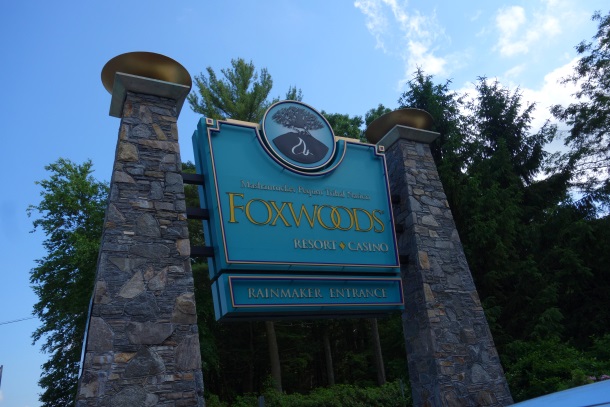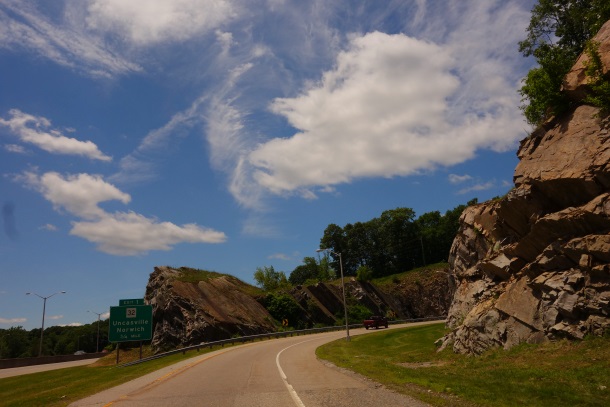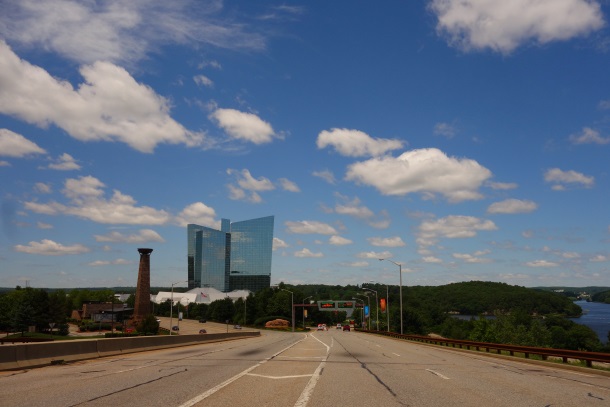 Summary…
Here's what you get at the Hilton Garden Inn:
Friendly staff.
Lemon water and cookies in the lobby.
Gorgeous decor with lots of live plants – (a  nice incorporation of the 'Garden' theme!)
Shuttle service to and from Foxwoods and Mohegan Sun Casinos.
Free WiFi
24 hour snack and toiletries pavillion
Room service with lots of tasty options – like a bacon gouda mac & cheese – Yum!
On property restaurant and bar/lounge with an outdoor fire pit – enclosed by screen keep you protected from any flying critters. This is a great place to hang out, have dinner or a few drinks, and maybe even meet some new friends – I can see people having a drink here before catching the shuttle to Foxwoods.
Breakfast Buffet: $11.95 includes an all you-can-eat omelet station, pancakes, french toast, waffles, fruits, etc…table service.
Gym – to work off all of those extra calories and to help you stay healthy and motivated for the day.
Business center
Indoor pool
Outdoor jacuzzi
Keurig machine for fresh coffee and tea in rooms.
A non-stocked refrigerator, perfect for storing your own food and drinks.
Neutrogena bath products
Jetted tub (optional)
For more information, or to reserve a room, please visit the Hilton Garden Inn.