I love coffee. I love iced coffee, I love flavored coffee, and I certainly love a fresh brewed cup of warm coffee on a brisk day! When I first started drinking this caffeinated delicacy, I was not very picky at all. A cup from the local gas station/diner was good enough for my college palette and did the job of keeping me awake for exams and staying up late to hang out with my friends.
Over the years, I began to notice that my preference leaned towards the sugary flavors, loaded with syrups, whipped cream, and more-than-I-care-to-think-about calories. Then something else started to happen. I began to actually notice the coffee's flavor – absent of all the fillers. I began to realize that, like wine, coffee tastes different based on so many factors; the brewing process, the origin where it was harvested, etc, etc. Now I was excited about coffee; Not because of the caffeine, not because of the syrupy flavors, but because of the coffee itself! More…
Last Tuesday, I attended a coffee and pastry pairing, courtesy of Barista Prima Coffeehouse, where I had the great opportunity of not only meeting pastry chef extraordinaire, Zac Young, and Italian Barista Champion, Francesco Sanapo, but I was also able to sample four regions of coffee and pair them with fresh baked pastries prepared by Zac himself. During the pairing, Zac even gave lessons in the culinary loft on how to create these scrumptious treats at home.
Italian Barista Champion, Francesco Sanapo is a coffee connoisseur and he has the championships to prove it! Francesco was the Italian Barista Champion two years in a row and currently is promoting Barista Prima Coffeehouse as seen on the K-cup packaging below.
Francesco is an outspoken, Italian with a great personality and the ability to work the room. At the tasting he made sure to talk to everyone (in a thick Italian accent) and explain his background living in Italy and traveling the world sampling coffee. He compared the tasting notes of the four regions referring back to his own worldly experience. Not bad for a guy who only learned how to speak English 6 months ago!
Here is a recap of the Coffee and Pairing selections at event: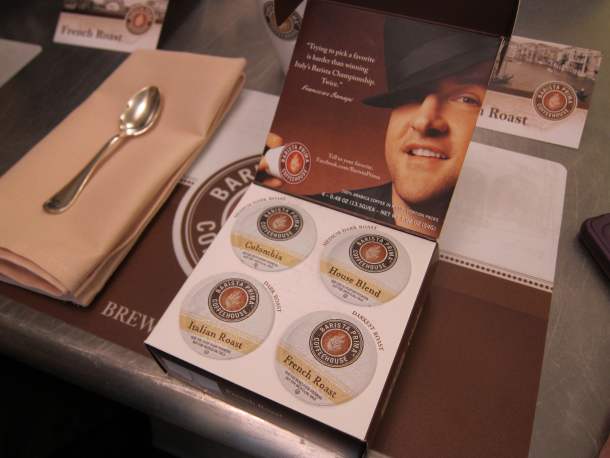 Columbia coffee paired with Walnut Pandebono– It's a Colombian bread made with farmer's cheese; traditionally served with coffee in Latin America. Columbia coffee tasting notes: Medium-dark Roast,  Accented by wondrously bright, bold fruit notes and a distinctive hint of walnut, this deeply roasted cup elevates satisfaction into a realm all its own!
House Blend paired with Pear Tart Tatin – See recipe of Pear Tart Tatin as prepared by Zac Young.House Blend tasting notes: Medium-dark Roast, • The timeless perfection of your best-loved coffee house cup • Classically balanced with a lively splash of citrus, subtle hints of bittersweet chocolate and a wellrounded, toasted-nut finish.
French Roast paired with Salted Caramel French Macaroons: the classic European sandwich cookie.  This is typically served with afternoon coffee and tea in France. French Roast tasting notes: Darkest Roast • Sweet, smoky love song to the cafés of Paris • Daringly dark, smoky-sweet brew with a surprisingly light mouth feel • This intensely bold, elegantly-bodied cup provides indisputable proof of our roast masters' consummate artistry!
Italian Roast paired with Bomboloni(Italian style filled donut). Guests of this event were able to add their own fillings to their Bomboloni choosing from a cherry, raspberry, and chocolate filling. Italian Roast tasting notes: Dark Roast • A deep, dark-roasted delight, done right • This robust, heavy-bodied cup with its ripe fruit and berry notes epitomizes the time-honored Italian tradition of dark-roasted coffee house brews • Subtle hint of smokiness and a bright clean finish.
Three delicious fillings: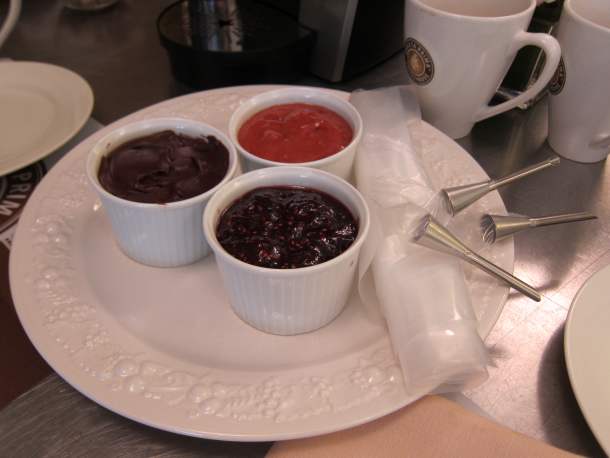 My favorite was a mix of the raspberry and chocolate – Yum! Combined with the House Blend – double Yum!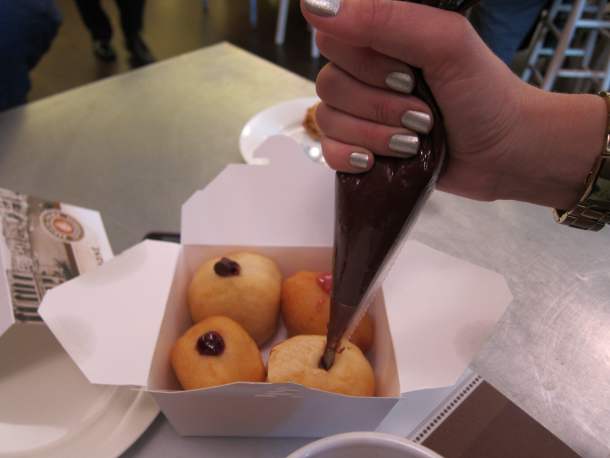 Holiday Idea: host a coffee party, what to pair with coffee!
About: New Barista Prima Coffeehouse® K-Cup® portion packs are an exclusive collection of the world's finest Arabica coffees roasted in the tradition of Europe's most celebrated coffee houses. Barista Prima Coffeehouse's bolder, richer blends are designed for the passionate coffee lover. Each cup reflects the consummate artistry and handcrafted care that only the most skilled baristas can deliver – until now. Now you can brew like a barista at home!
Their Story: Their team of coffee experts spent years in search of a way to recreate the intense flavor and complexity of the world's finest coffee house brews for Keurig® singlecup brewers. They worked tirelessly to develop stronger, darker blends that could meet their own impossibly high expectations. With more coffee from the world's premier coffee-growing regions in each K-Cup portion pack, Barista Prima Coffeehouse is the result. www.BaristaPrima.com