In celebration of Bodegas Farina's 70th anniversary, Manuel Farina and Manuel Farina Jr, hosted a delicious luncheon at GastroArte in NYC. Executive Chef Jesus Nunez created a special menu for the occasion, which was paired with a variety of Bodegas Farina wines from the TORO region of Spain. Distinguished guests Inigo Ramirez de Haro Valdes (Cultural Attaché to the Consul General of Spain) and Juan Ramon Martinez Salazar (Consul General of Spain) were in attendance, along with New York's finest food and wine critics, journalists, and connoisseurs. When it comes to wine made in TORO, rarely has one name been so linked to one region. Founded in 1942, this premium family wine estate is well acknowledged as the founding fathers of the region of TORO.
"Fariña´s wines are defined by elegance and restrained tannins while maintaining all the terroir and varietal characteristics. A real understanding and respect of the terroir and varietal show through in every single Fariña wine."
See photos and read more about the wines and menu offered at Bodegas Farina's 70th anniversary luncheon after the jump.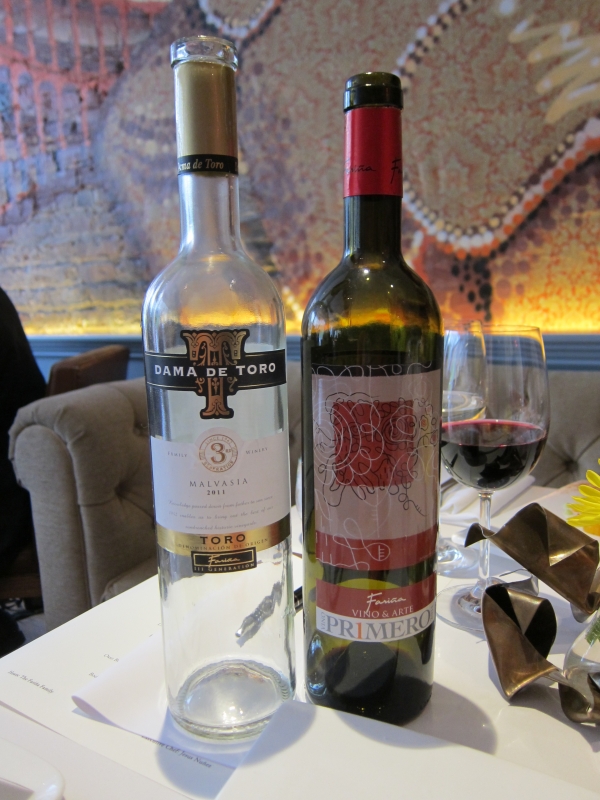 "A study of the Tomato in different textures and flavors"
This dish was colorful, tasty, and is made entirely of tomatoes prepared and seasoned in a variety of surprising ways.
Paired with a Bodegas Farina Malvasia 2011 ($11; clean, crisp fresh fruit, 100% Malvasia) and Bodegas Farina Primero, 2011 ($12; rich cherry fruit, a blend of Tinta de Toro and Garnacha). Yum!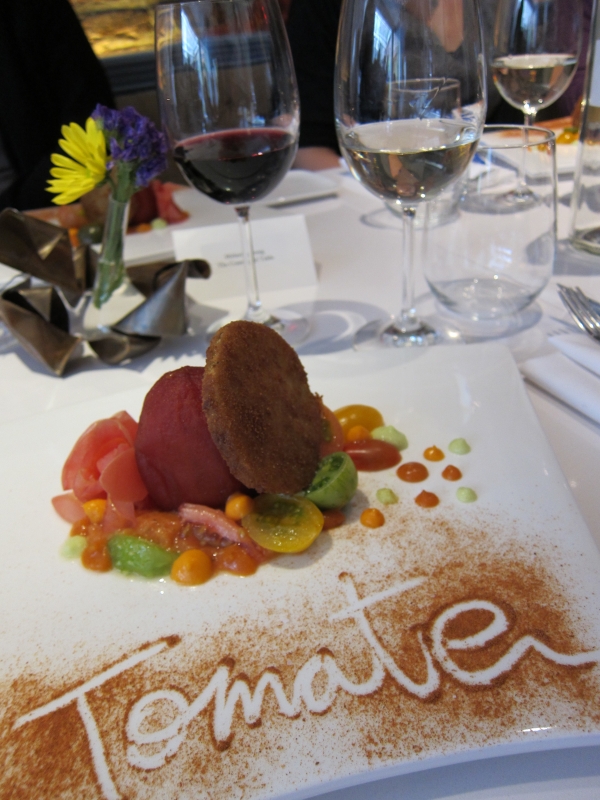 Bodegas Farina Wine Tasting Menu: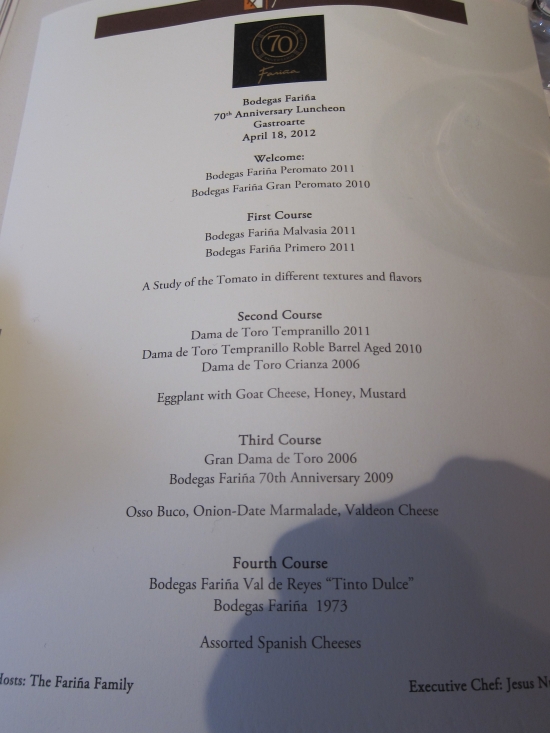 "Eggplant with goat cheese, honey and mustard"
Paired with three wines: Dama de Toro Tempranillo 2011 ($11, blackberry notes, Dama de Toro Tempranillo Roble Barrel Aged 2010 ($13, a touch of oak), and Dama de Toro Crianza 2006 ($17, spicy, berry flavor and peppery).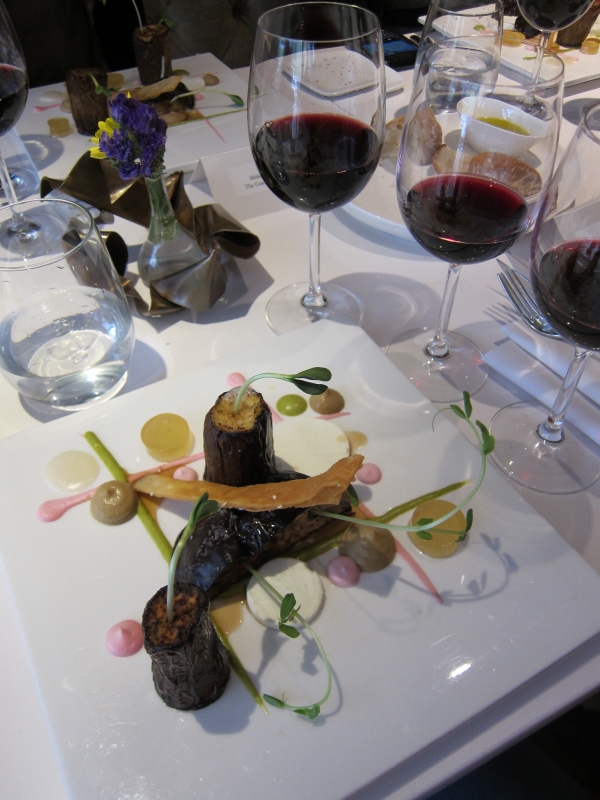 "Osso Buco,  onion date marmalade and Valdeon cheese"
Paired with: Grand Dama de Toro 2006 ($70) and Bodegas Farina 70th Anniversary 2009 ($45 full-bodied, well-balanced wine with spicy berry overtones).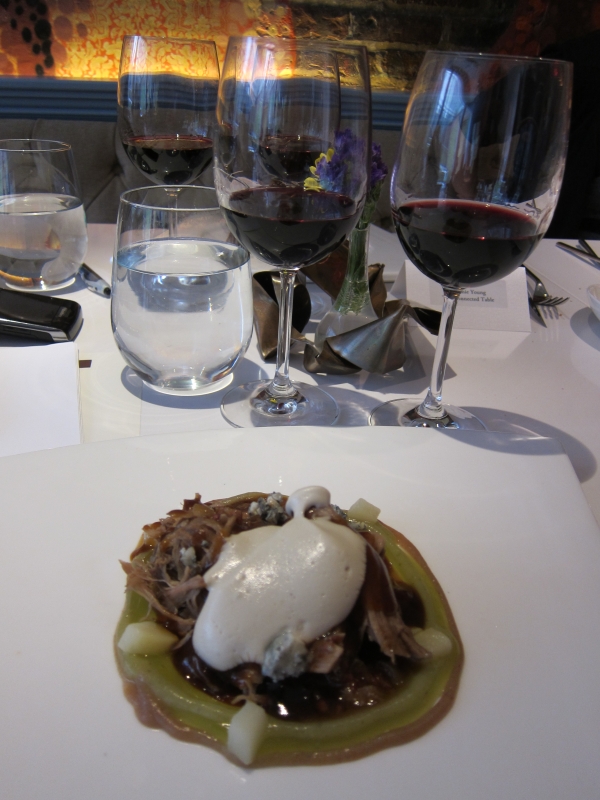 "Spanish cheeses"
Paired with: Bodegas Farina 1973 and Bodegas Farina Val de Reyes "Tinto Dulce" (Sweet)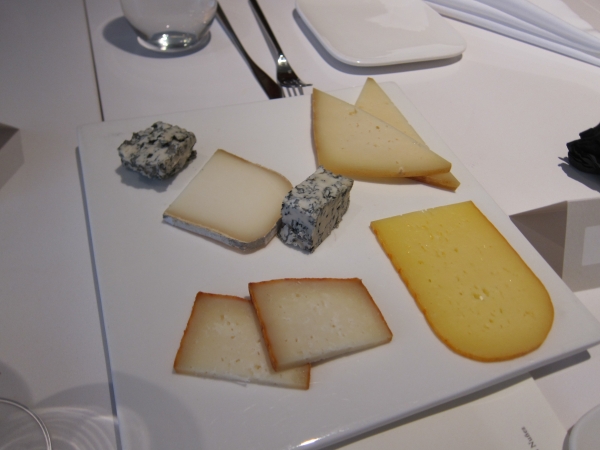 Below: Inigo Ramirez de Haro Valdes, Manuel Farina Jr, Chef Jesus Nunez, Manuel Farina Sr, Juan Martinez Salazar.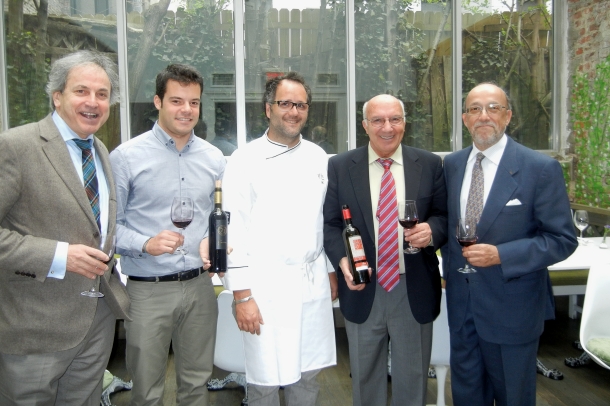 The gift bags for guests included a celebratory bottle of Bodegas Farina 70th anniversary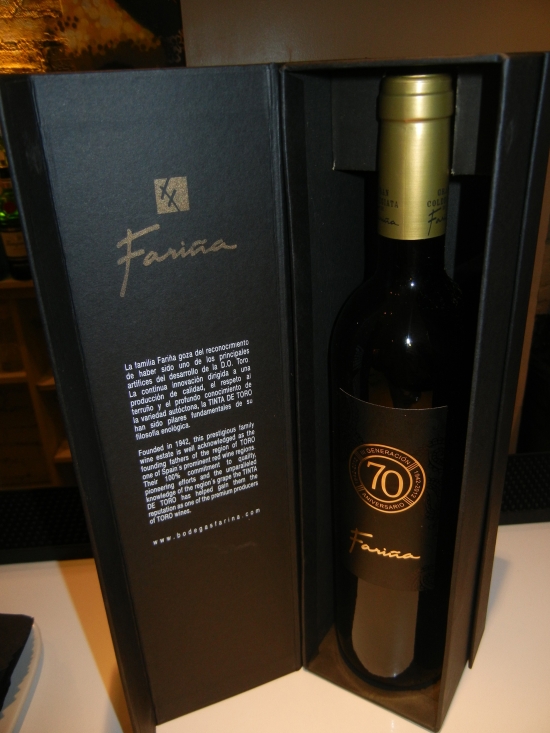 Note: The Bodegas Farina Wine Tasting was organized by The Connected Table. The Connected Table specializes in the creation and management of marketing and promotional campaigns and special events for global brands and destinations. Areas of expertise include: wine, spirits, specialty foods, destinations, and lifestyle products and services. We are widely connected in the food and beverage industry throughout the U.S. We work with many overseas organizations and governments to connect them with business contacts, consumers and the U.S. media, and to promote awareness of their products and regions.
The Connected Table Events personify our motto: Eat, Drink, Explore, Inspire!