Two short words that sum up Joanna Mastroianni's Fall/Winter 2012 Collection would be elegant, and chic.
Mastroianni promised us a journey and she definitely delivered. It was mesmerizing, breath-taking and filled with oo's and ahh's. I was literally just jumping out of my seat with excitement as every beautiful piece floated down the runway. Her inspiration was that of 'an ultimate fashionista and what she might wear in her favorite haunts around the world'. Now I too want to be adorned with these beautiful pieces on my life's journey.
Everything started in New York City. As the first dress came down the runway I was in a New York state of mind. The black, short and sassy dress had feathers, jewels, silk tulle, and was hand-embroidered on silk organza with fabulous matching gloves. (See picture below) Mastroianni's fashionista continues her journey, and stops in Paris. Elegant dresses then came down the runway. The color palette was divine at this point. It was copper, gold, bronze, pewter,  galore!!
Mastroianni's fashionista then took us to Asia. The pieces were simple yet chic. There was black, and daring splashes of metallics and red in there. The showstopper, which was the last gown, was the hand embroidered white silver gown with a plunging front and back. This was just marvelous. Mastroianni's collection showed youth, sophistication, and class. The detail in every piece was amazing. She made sure that every look got all of the attention that it demanded, with all of the sequins and leather faceted "jewels". It was filled with breath-taking colors, feathers, and metallics. I am jetlagged, this was my best journey and I did not even have to leave my seat!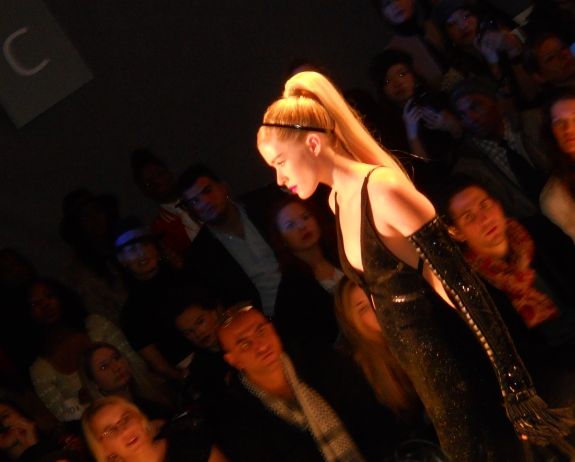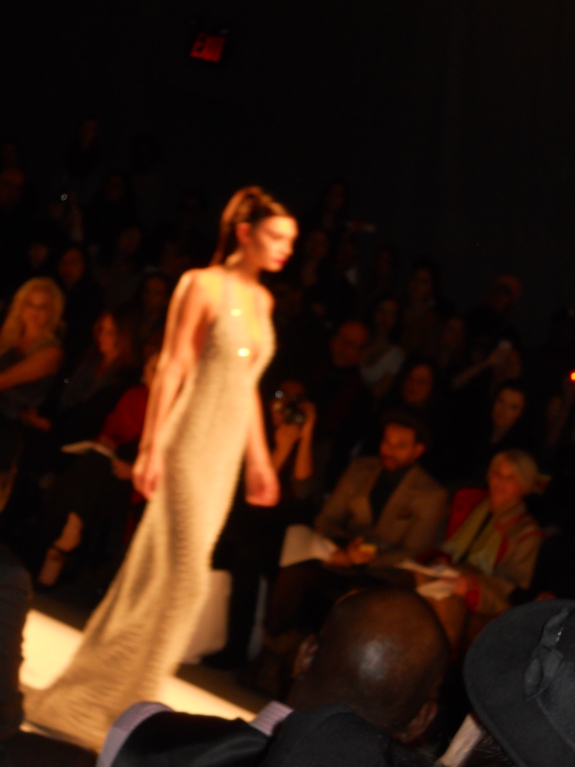 Inside the Lincoln Center for Mercedes-Benz Fashion Week Fall 2012.