If you're looking for a long-lasting, vibrant and shiny new manicure, then Senses Salon & Spa is looking for you. Located in downtown, Manhattan, Senses offers a wide range of services for hair and beauty maintenance, including the new Gelcolor by OPI manicure.
OPI recently introduced the new gel nail polish that is shinier and lasts longer than the standard manicure. At a cost of around $53.00, you can enjoy a glass of cucumber or lemon water,  or a glass of wine, while experiencing one of the latest techniques in nail care. The polish is currently available in 4 colors, including "Strawberry Margarita" (a bright pink), "Cajun Shrimp" (a reddish-coral), "I'm really not a Waitress" (shimmery maroon), "Passion" (a blush pink), and "Lincoln Park after Dark" (nearly black). Soon, they will have all 24 colors available, including Funny Bunny- an off-white, which is popular this season. I chose "Cajun Shrimp, which was the closest to a bright red, but with a touch of coral. It's a color that I've been obsessing over lately and is totally hot for summer (especially paired with a touch of turquoise). More…
The salon itself is clean and nicely decorated, with the photos of pop icons like Audrey Hepburn and Lucille Ball decorating the walls and furniture and big windows letting in plenty of sunlight. There are also nice touches of green with live plants and pops of shimmer with works of art like a dog statue made out of miniature mirrors and a giant, silver chandelier meant to mimic a dandelion.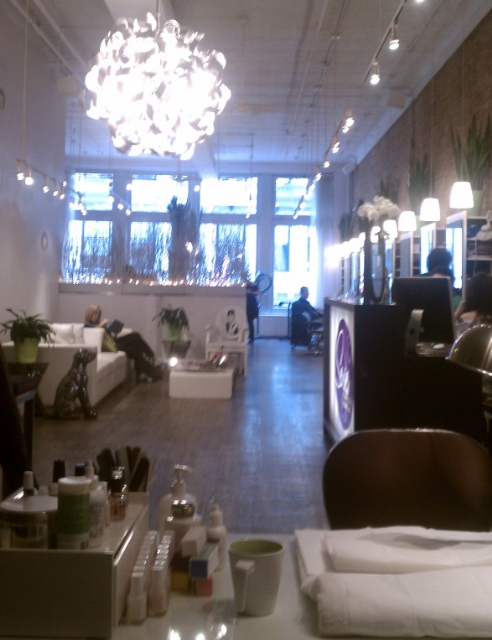 The lady who groomed my nails was Margareth, who also specializes in facials, eyebrow shaping, and a variety of other salon services. Four coats in all consisted of a base coat, two layers of color, followed by a top coat. After each coat, I was told to place my hands under a mini UV light that is intended to set the nail polish.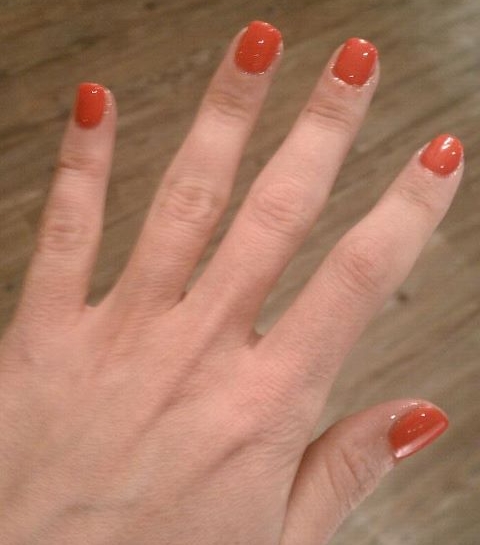 While it was just yesterday that I had my nails done, I can definitely say that my nails are shiny and look fresh, even after 24 hrs of abuse from rustling through my purse, etc. The true test, however will be to see how my nails look in a few weeks – will they live up to the 'long-lasting' claim? I will check back in a couple of weeks to let you know!