Mara Hoffman's Fall 2013 collection snatched your attention with it's vibrant colors and dazzling prints. She was definitely not afraid to use prints I can tell you that. This collection took you on a very colorful journey. It was interesting to see Hoffman throw all of these bright colors into a Fall collection but that is also what made her collection stand out. It was refreshing!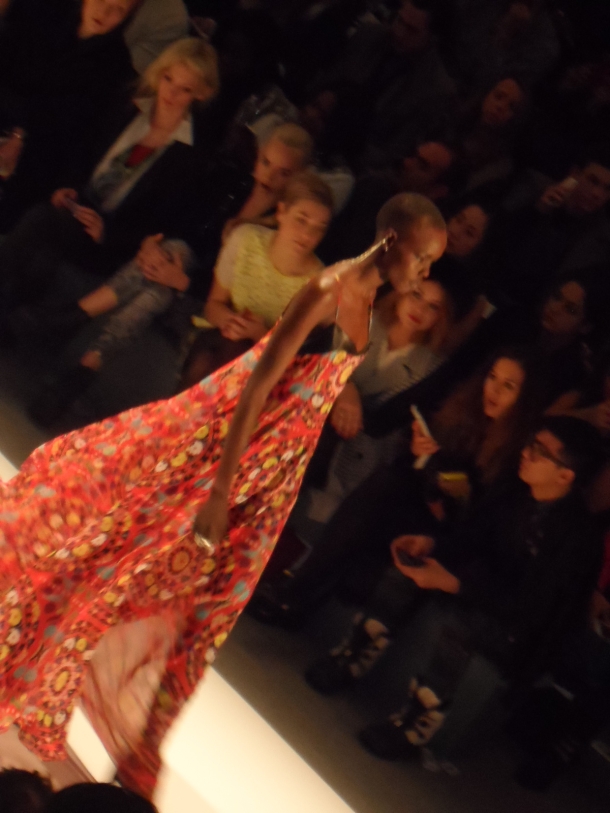 I loved the jewelry, which were earring chains that connected at each ear and draped across the model's hair. It was a nice touch. I enjoyed the black pieces, and Hoffman's coats. They were unique and looked very cozy. Mara's models were very beautiful too. I definitely won't be afraid to throw some bright colors and prints into my Fall 2013 wardrobe. Gallery after the jump.
You can read more about Xenia Janniere on her website Fashion Xensation
About Mara Hoffman: Mara Hoffman is a fashion designer currently headquartered in New York City. Her namesake line draws much of its inspiration from nature, mythology and fantasy, as well as many of the rich indigenous folk art histories found around the world. Part dream sequence and part anthropology, Hoffman's voice is at once playful, adventurous, and daring. She has garnered widespread attention among industry press, media and retailers for the originality of her designs and fearless approach to print and color.
Hoffman began designing under her own label in 2000. She received her Bachelors of Fine Arts in Fashion Design from Parson's School of Design, and pursued additional studies at Central Saint Martin's College of Art and Design in London. Possessing a fiery courage to take risks, Hoffman left school armed with a strong sartorial knowledge and started work in pursuit of her vision. Creation was a natural product of her process; she experimented, cut, stitched, dipped, dyed, and wore her ideas. No surprise then that Hoffman met her first buyer on the streets of New York when shop owner/costume designer Patricia Field approached her to inquire about what she was wearing. Her first designs made their debut in Field's New York City boutique, House of Field, where a loyal client base took root.
In 2008, Hoffman launched her first collection of swimwear. What started as a capsule collection in her Spring/Summer 2009 runway show for New York Fashion Week, has grown into two additional seasons for the Mara Hoffman brand: Resort Swim and Spring Swim. Along with swimwear, Spring, Fall and Resort Ready-to-wear lines include a distinct collection of dresses, pants, tops, coats, and knits. Mara Hoffman shows her line both at the Mercedes-Benz Fashion Week in New York for the Fall & Spring RTW as well as Mercedes-Benz Fashion Week Swim in Miami.
In 2011, Mara Hoffman was honored to be inducted as a member of the Council of Fashion Designers of America. Concurrently, the Mara Hoffman line experienced a record setting year of growth. Now carried by the top retailers around the world and coveted by numerous A-list celebrities, the Mara Hoffman brand continues to expand, while Hoffman herself continues to stand at the helm, guiding her designs with a passionate vision and courageous heart. Hoffman lives in Brooklyn with her husband, artist Javier Piñón, her son, Joaquin, and her dog, Gypsy.