While I would love to say that Izakaya is incredible, it is in my opinion, a bit over-priced and probably not the best Japanese cuisine for the money. The ambiance is modern and trendy and the menu boasts some unique items, but at double digit prices for standard sushi rolls, I've had better elsewhere.
During my dining experience, I ordered the Miso soup (which didn't arrive until long after my meal was complete), the Kobe Beef appetizer, and an eel roll and spicy yellowtail roll and 1pc tobiko sashimi ($4). The Kobe beef appetizer was served with an apricot mustard and cilantro sauce for dipping and while delicious, definitely on the expensive side at $14 for a tiny portion. It says on the menu that is serves two, but I could have eaten two portion on my own. (see photo below).
The eel roll was prob the best value at $10 for a 6pc roll. The yellowtail and avacado roll ($14) was typical and while tasty, nothing beyond what I order on a regular basis from the Japanese Bistro near my house where it costs half the price as at Izakaya. As I mentioned, the Miso soup ($6) came long after I had finished eating (despite asking the waitress a few times to check on it) and was tasty (though could have used less scallions), but not worth the wait.
Despite my less than stellar experience, I'd be willing to give Izakaya another shot for a few reasons – one is that while expensive, this is to be expected for casino restaurants and living in NY, expensive dining is nothing new. I think I've just gotten spoiled by some really great sushi bars near my apartment so expected something more. Also, Izakaya offers a tasting menu on Mondays which would give me the opportunity to try some of their specialty dishes at $7 a plate. I'd like to try the king crab tacos and spicy scallop roll as well as some of their desserts like the orange cranberry cake. After reading additional positive reviews online, I am certainly willing to give it another go.
Photo below: Kobe beef appetizer – actually looks bigger in this pic than it did in person. Each skewer was about a bite and a half, if you take small bites.
Total meal cost: $48 before tax and tip, so around $60 (ordered water with lemon to drink).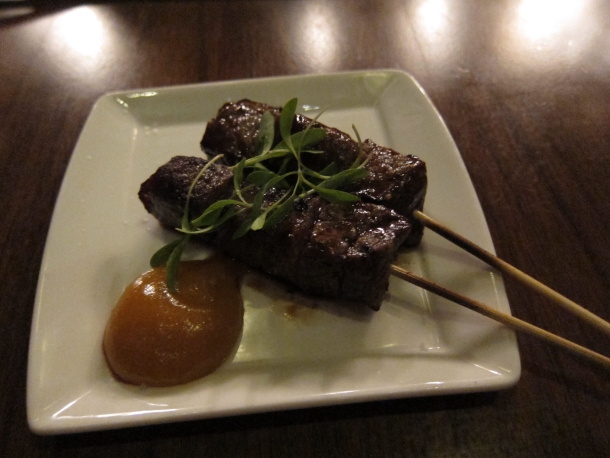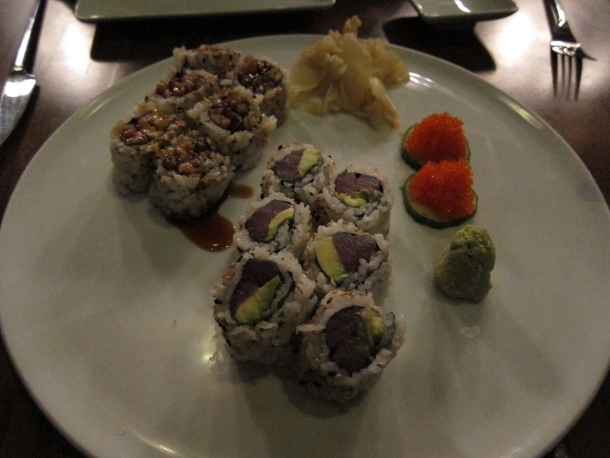 The miso soup was full of scallions and what I think must have been bean sprouts? It looks like crab, but isn't.