Nails are definitely making a big statement this season! With so many different nail colors and styles for you to choose from, here is a list that helps you break down the hottest trends so you can have the trendiest digits by the pool, beach, or wherever you go!
1. Neon: Bright nails are one of the biggest trends this season. They can add the perfect pop of color especially for those who tend to wear neutral clothing. Wearing them on rainy, gloomy spring/summer days will be the perfect pick-me-up and can't help but make you smile.
Also, consider a bright white, which pops perfectly against almost any color including neons. White will also work with your red, white & blue Fourth of July outfit!
2. Pastels: Just like fashion, pastel nails are really on trend. Bring out the mints, baby pinks, and light colors for a perfect girly glow. One of the best things about pastel nails is that they really accentuate your (spray) tan!
3. Nude: There is nothing better than a clean and polished look. Nude/skin-tone nails can really elongate your fingers and toes and make them appear neat and polished. It's a really simple touch but can make all the difference. If brightly colored polishes aren't essentially for you, nude nails are a great transition and quite refreshing. They are also perfect for the office!
4. Glitter: Bring out your blingiest, jeweled nail polish and get ready to sparkle! Glitter is no longer only for children! If glitter polishes are a little out of your comfort zone, try just putting it on an accent nail for starters until you can get used to it. One of the cons of wearing glitter polishes is that they aren't so easy to take off; Adding a base coat underneath the polish will make all the difference.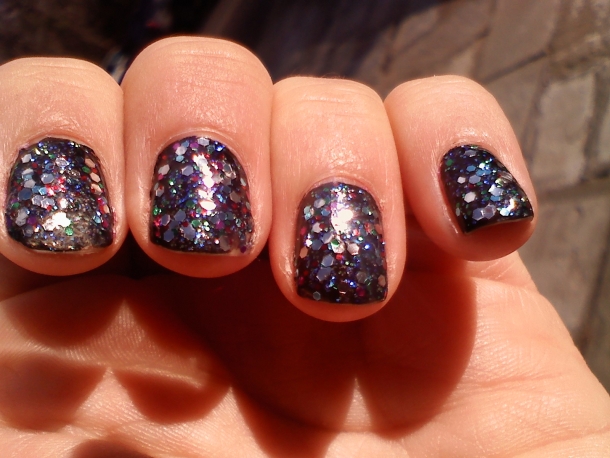 5 Red: No matter what season, a glamorous red is always in style. A perfect red polish should be a staple in every girl's cosmetics shelf. Like red lipstick, a red polish signifies confidence, strength, femininity, and sex appeal.
With all of these gorgeous nail polish options, nothing would look good on dry hands. Be sure to take care of your hands and feet by exfoliating and using a rich moisturizing cream to keep hands smooth.
credit: beautypress.com

Glitter Nails are my own.