New York Fashion Week: New York Based Peruvian Designer, Sergio Dávila Presented Urban Canvas – a blend of color, history and adventure that make up the Fall/Winter 2014/15 Collection.
The free spirits of nomadic tribes roaming rural Brazilian lands in caravans set the mood for this season. There have been Gypsies in Brazil since the sixteenth century and the romantic ideal of their dancing around a flickering fire to rhythmic clapping and chanting inspire this collection's hues of ruby red and emerald green.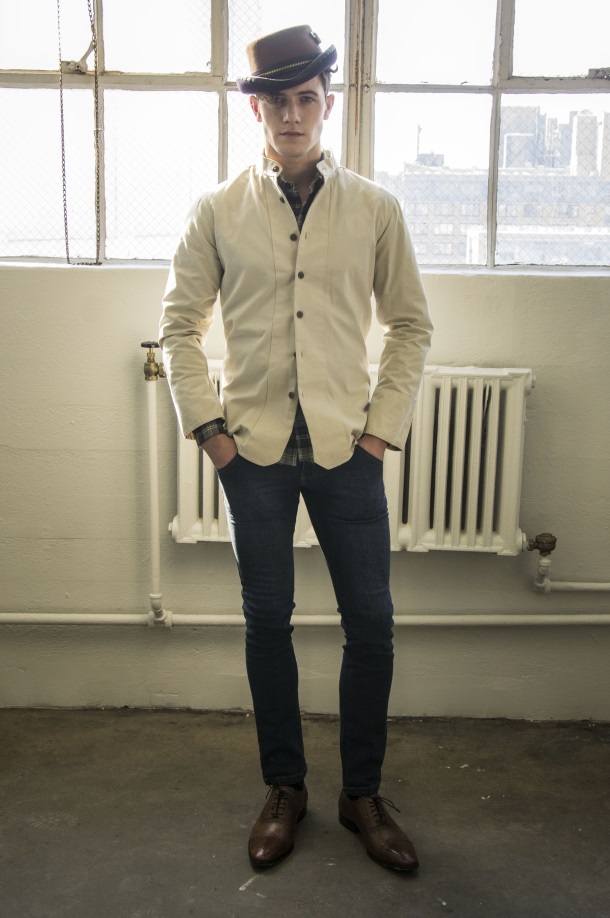 [pullquote]My heritage and roots are always the starting point of developing a new collection. I reflect on my journeys in between the Americas and find the perfect intersection of design and culture for my clothing. ~Sergio Dávila[/pullquote]Loose-fitting shirts and jackets with knit and leather sweatpants are a key silhouette derived from Brazilian gypsy horsemen's trousers and jackets. 
Gorgeous knitted jacquard sweaters in browns and blues are specially crafted with baby alpaca and fine organic cotton, both native to Peru. Baby Alpaca is of a finer grade that standard alpaca grade, indicating the luxurious nature of the Sergio Davila brand.
Gallery below…
Since launching his brand in 2004, Dávila has won awards and accolades in the United States and Peru. He was the winner of the Fashion Group International's Rising Star Award for Best Menswear Designer 2009, and in 2010, was nominated for Best Menswear Designer by the Ecco Domani Fashion Foundation. The Sergio Dávila brand has three flagship stores in South America. In the United States, the brand is available exclusively at the New York flagship.