I'm a long time fan of Custo Barcelona's use of color and textures on the runway. A seasoned vagabond such as myself, Custo Dalmau (the better known half of Custo Barcelona) dreamed up the brand with his brother, David, on a motorcycle trip across America.
Inspired by the lax attitude of southern California, the pair returned to their native Barcelona and started a business crafting T-shirts for men and women with screen-prints and illustrations. Now the brand extends to everything from suits to swimwear, and it's still the colors and prints that keep bringing customers back.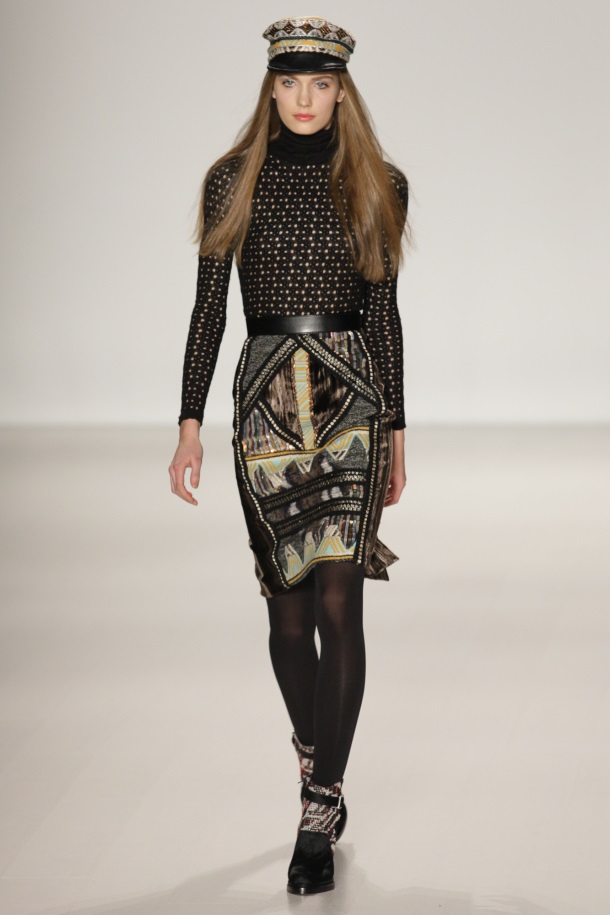 This season, Custo Barcelona  took all of the colors and prints we're used to seeing for spring/summer and splattered them onto winter fabrics. Wool, velvet, tweed, and fur were all fabrics found on the runway, while hot pink, purple, and green grazed the surfaces of these fabrics in graphic, tribal prints embellished with the usual array of fringe and detail that I've grown to expect from this established designer.
Photos from Custo Barcelona's Fall/Winter Collection can be seen below.
Long brown coats for men and women, some of the coats in a half solid color and half print were definitely surprising.
The bright purple aviators that some of the models wore added to the summer-in-winter feel the collection was going for. The makeup on models was kept simple, with shimmery ivory shadow on the lids and a soft pink gloss on lips. Skin was kept at a dewy finish. The hair on the women models was completely straight with a middle part and short blunt bangs cut straight across the forehead.
Source: beautypress.com
Photographer: Eric Marillier