Created by former NFL greats Harris Barton and Ronnie Lott, Champion Charities' newly focused mission is to help children and families in need specifically tackling brain diseases and traumatic brain injuries. The NFL Alumni Association's mission is to act as an unwavering advocate for alumni, while also serving the communities that support its members and supporting the wide array of charities to which its members are so deeply devoted. Camfed fights poverty and HIV/AIDS in rural Africa by sending girls to school for a full education and investing in economic and leadership opportunities for them once they leave school. Since Camfed's inception in 1993, 1,299,700 children have benefited from Camfed's education programs in some of the poorest areas of Zimbabwe, Zambia, Ghana, Tanzania, and Malawi.
On Wednesday night, these charities came together for a special evening at the Miskoff Theatre followed by a presentation of Disney's Lion King. Before the show, kids and grown-up kids, were invited to feast on a buffet of food including everything from truffle mac & cheese to exotic dishes that I  tried for the first time and were delicious! NFL luminaries Harris Barton and Ronnie Lott mingled and took photos with guests, many of who opted to have their faces painted as part of the evening's activities. (See the photo below)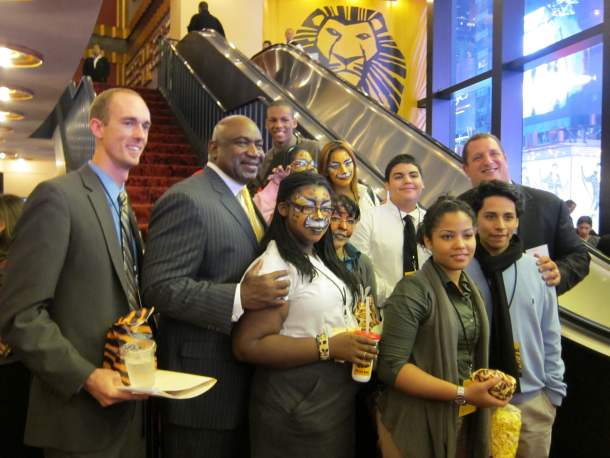 For dessert, a self serve candy station was set up with popcorn, sour patch kids, Swedish fish, jelly worms, candy coated chocolates, and just about every flavor of cotton candy from grape to apple! (Yum, yum, yum!) There were fun, animal print bags to collect candy to bring into the show.
For the adults in the crowd, there was an open bar and in big kid fashion, the drinks could be served in Lion King plastic cups to bring into the theater!  There were also some fun, Lion King themed drinks like 'Hakuna Matata', 'Scar's Revenge', and 'Rafiki's Jungle Juice'. The pre-show reception took place in a room over looking Times Square and the view was absolutely stunning!
This was my first time seeing Disney's Lion King musical and so it was a great experience to have had such a wonderful introduction. I've seen the movie (several times) and have seen short musical renditions at Disney's Animal Kingdom, but this was the first time on Broadway. The music and costumes were great and the actor who played Scar was incredible. Zazu's, Timon's. and Pumba's characters were played by puppeteers, who are super talented and fun to watch. It's amazing the amount of creativity, hard work, and skill that goes into the production of every single performance. I definitely give everyone involved with the show a lot of credit!
More about Champion Charities: http://www.championcharities.org/
More about Camfed: http://us.camfed.org/site/PageServer?pagename=home_index