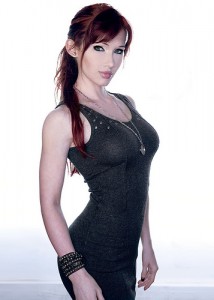 Funky, flirty, and fabulous! The music scene's next big phenom has arrived in the form of Emii. The Ohio born singer seems to have it all, a unique sense of style, power vocals, and a growing catalogue of pop hits that are bound to stay in your head for days. She recently rocked the stage during the NRJ music tour and has become quite the video vixen. To watch the diva in action, visit http://emii.net/. Warning: You'll never be able to forget the lyrics or video concept for the wildly entertaining track 'Stilettos'. Social Vixen had the chance to find out what inspires Emii and what allows her to keep going.
The music industry is obviously very difficult to break into and navigate. How do you avoid discouragement and not lose faith in yourself
and your talent?
I've learned never to allow negative experiences to deter me from continuing to create and perform the music I love for the people I love.  Everyone gets discouraged sometimes.  The most important thing is to not give up.
Do you have advice for artists out there who are fighting to break into the industry?
Continuously improve, adapt, and learn whatever you can about your craft.  Being able to "roll with the punches" has personally helped me immensely. (More after the jump).
At the moment, your career is really taking off. You're collaborating with legendary artists, such as Snoop Dog, and you're songs are invading
the net. How did you manage to get to such an amazing place in your career?
A mixture of perseverance, absolute passion for music, incredible love for my fans, and (yes) luck. I have been very blessed with so many opportunities and I'm thankful
for them every day of my life.  I will never stop creating and performing for as long as I live.
You're music videos are a mix of theatrical flair and lavish club life. Describe the creative process when it comes to developing the treatment
for a video.
First the excitement hits. Then the ideas start rolling in!  There isn't really a set example for how the creative process strikes.  I compile ideas and concepts with my team and we decide what works for the creative visual expression of the song. I've been very fortunate to be able to work with those who share my vision, creativity, and determination to give my fans the very best.
You recently performed in some amazing cities, such as Beirut, Lebanon, what has been your favorite city to travel to so far? What city are you dying to perform in?
Beirut, Lebanon is definitely one of my favorites, and Chicago also has my heart.  I would love to do a concert in Brazil soon as well. I could go on forever… there are
so many places I can't wait to see!
What are your main goals as an artist and how are you pursuing them?
My main goal is to share my music with the world while performing and creating for my beautiful fans as I continue to grow as an artist… and I pursue that goal with
every ounce of my heart and soul.