Relax, we're on Island Time
Today, was a great day except for the fact that the Boo was in an extremely impatient mood and rather than being on 'Island Time' as he always likes to say, was instead on 'City Time' and was therefore, being rather demanding of my attention.
For example, I was happily walking along the beach taking photos and he kept snapping at me like an angry turtle to hurry up, which now that I'm writing that and saying it out loud, it doesn't really make sense since snapping turtles are slow. So, he was more like an angry rabbit…like the one from Alice in Wonderland who is always worried about time.
Anyway…the point is that I was on island time and clearly, boo was not.
The Day's Agenda
We were on our way to a local dive shop where we were signed up for two shore dives, which admittedly, we were running a little late to.
By the dive shop, there was this long dock, with a couple of small boats, that caught my eye. There was a little boy, maybe around my nephew's age, running and jumping off of the dock and he looked like he was absolutely loving life!
Watching him reminded me of countless summer days as a kid, running and jumping off of the dock, into the lake that my family lived on. A few feet from the end of dock, close to where the boy was jumping, his parents (I'm guessing?) were lazily enjoying the water on a floating lounge chair.
Further away from the dock, closer to the shore, there were all sorts of ways that people were enjoying their day – picnic tables, shaded by palm trees, were covered with food, and out in the water, kids were skimming stones ….
"Mumble, mumble, snort…growl"
That's boo, wanting me to stop taking pictures and to hurry up.
I assure him, for like the 20th time, that he is more than welcome to go ahead without me and that I'll meet him in the shop, which by the way is literally like 20 feet away!
We started to argue right as a couple of employees were walking out of the shop and they promptly urged us to relax and reminded us that:
"hey, we're on island time…"
"See…!", I snapped back at boo, happy to have had my point made. But, then throwing my point (that he should relax) right out the window with my snide remark in an anything but relaxed tone.
Big breathe.
We filled out some forms, met our guide Herman, got our gear in order, laughed at the absurdity of being able to argue in such a beautiful location, and then headed out to our first stop, Kokomo Beach.
Scuba Diving
Today, we were diving with the Dive Shop and our instructor was Herman.
Herman is a cool dude.
He lives on the island with his wife and they're saving up to buy a sail boat so they can travel around the world by sea.
How cool is that?
This is Herman…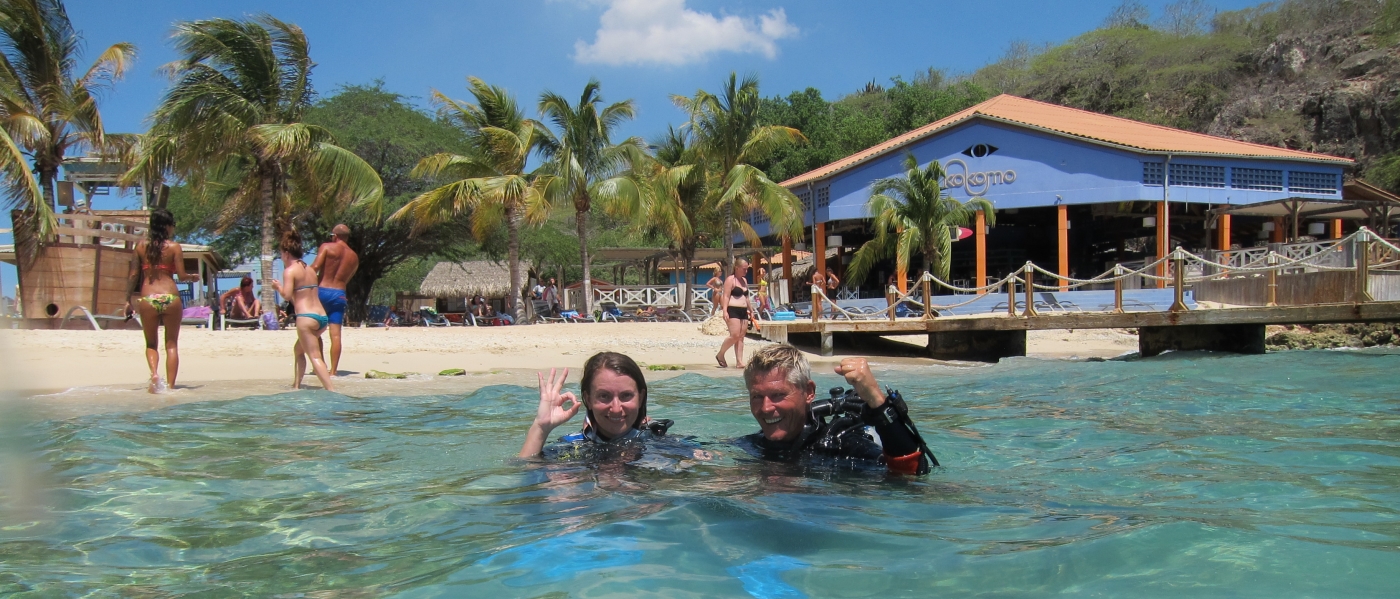 Herman took us to two dive spots: Kokomo Beach and Snake Bay (not as scary as it sounds!).
[continue reading: Kokomo Beach]