Grand Hotel Billia is, without a doubt, one of the nicest properties that I've stayed at during my (many) years of travel. There are several hotels that have won me over with their charm and impeccable service and attention to detail; The Pacific Hotel and Terrace in San Diego comes to mind, as does the Windsor Court in New Orleans, and let's not forget about all the amazing resorts in Las Vegas! Grand Hotel Billia, however gives all of these great establishments a run for their money. Why?
For starters, the view of the Alps, and close proximity to some of the best slopes in the world for skiing, make Grand Hotel Billia a great destination resort for those who love winter sports. Within waking distance, you will find plenty of small shops and restaurants, along with churches and other historical landmarks. Additionally, a shuttle runs to La Paluda, where you will find even more shops, restaurants, and a cable car that takes passengers to the top of Point Helbronner. We are planning to spend a day in La Paluda during our trip, so I will write a separate post on that experience.
Just want to relax? At Grand Hotel Billia you will find an incredible wellness center with baths fed from mountain water. Year round enjoyment of the swimming pools is made possible by controlled heating, allowing you to soak or swim even in the cold, winter months.
Hungry? There are several on property restaurants to choose from, each boasting unique flavors fit for a first class palette. So far, I have enjoyed quite a few dishes and each one has been remarkable: steak tartare, duck salad, orange panna cotta, and some of the best cheese I've tasted, sourced from local farms. At the end of my stay, I will write a post dedicated entirely to the cuisine of Grand Hotel Billia.
Grand Hotel Billia is an impressive structure both inside and out. By combining Billia's tradition of 1908 and Lissoni's innovation of 2014, guests are treated to a mix of traditional elegance with modern and innovative technology. Exquisite touches like furniture created by local craftsmen and antique memorabilia are found throughout the property. There is even a wall that displays a rather large collection of framed, historical documents proving that your stay here is a balance of both old and new.
If you like to dance with lady luck, then a futuristic hallway will lead you to an on property casino that is two full floors of a gambler's paradise, filled with slot machines and table games. A grand departure from the hotel's classic decor, this hallway serves as a bridge to the modernity of another era. As you walk through this hall, glowing lights change from purple to blue, to red, to orange, etc. and create the illusion that you are indeed, walking into the future.
Of course I should mention some details about the hotel rooms. Ours has a balcony which is a lovely place to enjoy a cup of tea in the morning and take in the view. The room itself is modern and clean with a bed that feels like heaven. There are about 20 lighting options to create the perfect mood and framed photos on the wall proudly display local landmarks. The bathroom is spacious and built with a large shower that doubles as a mini spa. A raindrop shower head, combined with multiple jet options and a wooden chair, provide a relaxing space to meditate or should you choose, be invigorated (cold water does the trick)!
I can not recommend Grand Hotel Billia enough. If you are planning a trip to the Italian Alps, then I strongly suggest that you consider making this your home base. If you're not planning a trip to this region of the world, then I suggest you do so. Need more convincing? Check out the reviews on TripAdvisor, where guests such as myself share their thoughts and experiences, giving Grand Hotel Billia a four and a half star rating, ranking the hotel at #1 in Saint Vincent.
The hallway to the casino…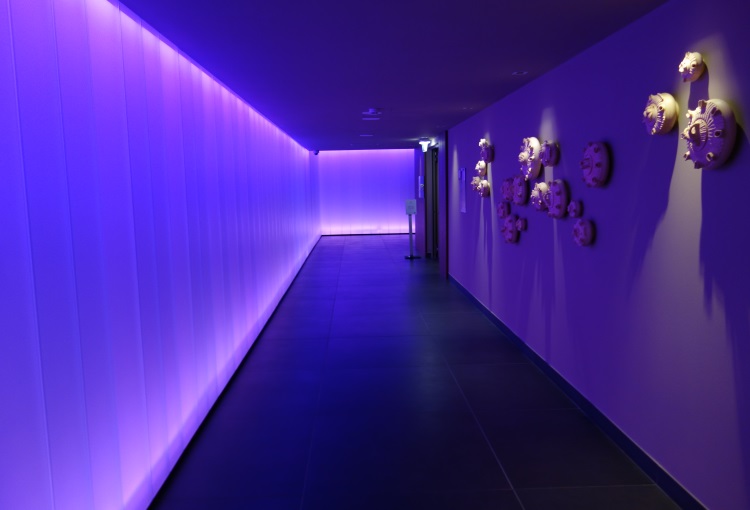 The photo below is in slideshow mode. By clicking on the arrows, you will be able to browse through additional images.
[tribulant_slideshow gallery_id="2″]